Irish Legal History Society prize awarded to Manchester academic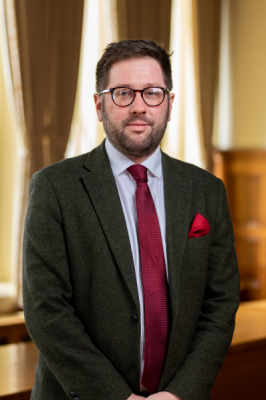 A Manchester academic has been awarded a prestigious, early career prize by the Irish Legal History Society.
Ashley Hannay, lecturer in property law, was awarded the Sir Anthony Hart Doctoral Paper Prize for his paper The Origins of the Statute of Uses, 1536, which he presented at the 25th British Legal History Conference at Queen's University Belfast.
Mr Hannay joined Manchester Law School in September 2021 and recently successfully defended his PhD thesis at the University of Cambridge.
In announcing the award, Dr Niamh Howlin, associate professor, head of school and Dean of the Sutherland Law School at University College Dublin commended the paper's exceptional originality and contribution to the field of legal history.
The prize was presented to Mr Hannay by Sir Anthony's widow, Lady Mary Hart, at the conference dinner in the Great Hall at Queen's.