NI: Trial of former British soldier could proceed via Skype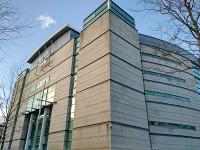 The trial of a former British soldier accused of the attempted murder of a 27-year-old man in 1974 could proceed via Skype because of the coronavirus outbreak.
Lawyers for Dennis Hutchings, 79, told Belfast Crown Court on Friday that their client has a chest infection and was advised by doctors to stay at home.
Mr Hutchings is accused of shooting John Patrick Cunningham in Co Tyrone on 15 June 1974. He was charged in 2015 after prosecutors reviewed the case and concluded there was "a reasonable prospect of conviction".
Prosecution lawyers told the court that allowing Mr Hutchings to follow the trial over Skype would be "an appropriate course", and said the defendant had previously indicated he would accept this, the Belfast Telegraph reports.
However, lawyers for Mr Hutchings said their client would "prefer to be here for his trial" but would accept a Skype trial if the court insisted on it.
Mr Justice O'Hara adjourned the proceedings until Monday 23 March to allow the defence to consider the matter further.