NI: Stormont unanimously rejects proposal for Troubles 'statute of limitations'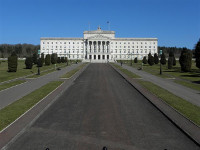 The Northern Ireland Assembly has unanimously rejected deeply controversial UK government proposals to end all criminal prosecutions linked to the Troubles.
Northern Ireland Secretary Brandon Lewis last week set out the government's proposal for a "statute of limitations" which would prevent the prosecution of either former British soldiers or former paramilitaries for "all Troubles-related incidents".
However, MLAs yesterday resolved that the government's proposals "do not serve the interests, wishes or needs of victims and survivors nor the requirements of truth, justice, accountability, acknowledgement and reconciliation".
The resolution calls on the government to withdraw its proposals and "recalls the approach to dealing with the legacy of the past agreed at Stormont House, which also forms the basis of an international treaty between the UK and Irish governments".
Justice Minister Naomi Long told MLAs that the proposals "risk undermining the rule of law and are a recipe for decades in the courts focusing on challenging and unacceptable interference in due legal process and practice rather than on truth recovery and justice".
She added: "The government claim that the Stormont House Agreement is undeliverable despite being a model that has international recognition and support from the majority of affected families and most of the Northern Ireland parties.
"Whilst I would be the first to acknowledge that the agreement is not perfect, it has the advantage of being comprehensive and European Convention on Human Rights (ECHR)-compliant, which is more than can be stated in respect of the current amnesty proposals.
"We would therefore be much better engaged in fine-tuning those proposals than casting them adrift and clambering on an uncertain life raft of unilateral government proposals — an uncertain proposal more attuned to the demands of a narrow Tory veterans' lobby than the wider interests of victims, veterans and their families."