Research highlights widespread violence against women and girls in Northern Ireland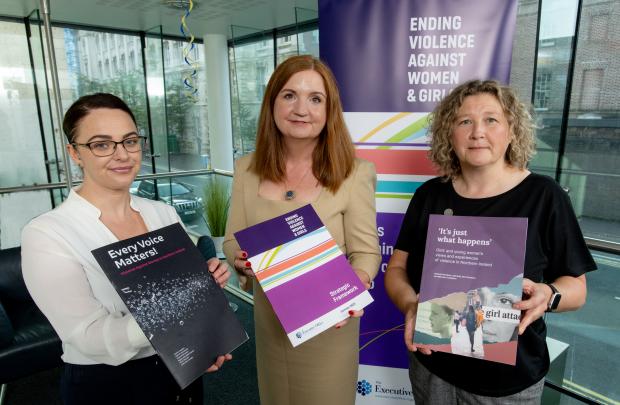 Almost 98 per cent of women surveyed for a report into violence against women in Northern Ireland experienced at least one form of violence or abuse in their lifetime.
The report, 'Every Voice Matters!' Violence Against Women in Northern Ireland, led by Ulster University, also reveals that seven out of 10 of those surveyed had experienced some form of violence or abuse in the last 12 months.
A second report, 'It's Just What Happens': Girls' and Young Women's Views and Experiences of Violence in Northern Ireland, was led by Queen's University Belfast. It found that 73 per cent of girls aged 12-17 reported having experienced at least one form of violence in their lifetime.
Both reports were commissioned by The Executive Office to inform the strategic framework to end violence against women and girls which is currently out to consultation.
Speaking at an event launching both reports, Jayne Brady, head of the civil service, said: "These reports shine a light on the extensive nature of violence against women and girls and show too many lives have been blighted.
"They remind us all that the violence, harm and abuse inflicted on women and girls has far reaching repercussions, including significant impact on our men and young boys and that we all have a role to play in bringing about the change that is needed to improve the lives of women and girls in our communities, our workplaces, in our sports clubs, schools, colleges, our streets and in our homes."
Dr Susan Lagdon from Ulster University said: "We spoke with and surveyed women from across Northern Ireland to get a better understanding of the violence they face and we are indebted to every woman who has shared their experience, insight and recommendations for the future.
"The research findings demonstrate the extensive nature of violence against women and girls living in Northern Ireland as they are exposed to a variety of harmful behaviours from childhood right through to adulthood with implications for their mental health and social functioning. The evidence from this report and many others demonstrate that we need to respond now, we have a duty of care to ensure that this issue no longer remains behind closed doors nor the repeat item on the agenda for change."
Dr Siobhán McAlister from Queen's University Belfast said: "Those who took part in the research reported little formal learning about violence in school. This, alongside powerful social messages of blame and responsibility, impacts the ability of girls to recognise violence and their willingness to disclose personal experiences. Girls learn that they need to 'keep themselves safe', thus removing responsibly for violence from boys and men.
"Research participants were keen to point out, however, that blaming boys and men was not useful. Rather that early, inclusive and meaningful education was required. They emphasised the need to support boys and young men in recognising the impacts of their attitudes and behaviours, and to disturb negative attitudes towards women at a broader societal level."