Northern Ireland's abortion buffer zones bill referred to UK Supreme Court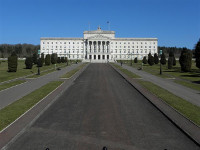 Legislation creating protest-free buffer zones around abortion clinics in Northern Ireland has been referred to the UK Supreme Court to determine whether it is compatible with European human rights laws.
The Abortion Services (Safe Access Zones) Bill was approved by MLAs shortly before the Assembly dissolved at the end of March. It was a private member's bill proposed by Clare Bailey, the Green MLA for Belfast South, who lost her seat in last week's elections.
In a statement, the Office of the Attorney General for Northern Ireland said it had referred the bill to the Supreme Court to consider whether the offence created by clause 5(2)(a) of the bill is "a a proportionate interference with the rights of those who wish to express opposition to abortion services in Northern Ireland".
The clause does not provide for a defence of reasonable excuse, which critics claim could fall foul of the European Convention on Human Rights.
"If clause 5(2)(a) is determined by the court to be within the competence of the Assembly, the bill may proceed to become law," the office said. "A date for hearing is awaited."