NI: 'Nightingale venue' hosts hearing for first time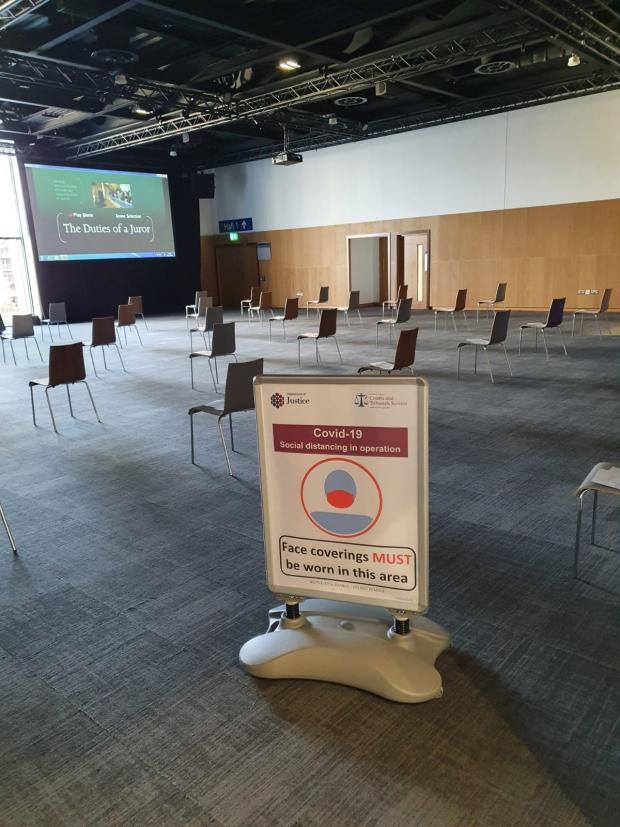 The "Nightingale venue" established at the International Convention Centre in Belfast (ICC) to facilitate court and tribunals business has hosted a hearing for the first time.
The ICC became a Nightingale venue two weeks ago but had only hosted jury empanelment until yesterday, when it hosted a Coroner's Court hearing.
Further courts and tribunals business, including welfare appeals, will be "phased in" subject to necessary risk assessments in consultation with the Public Health Agency, the Health and Safety Executive and other statutory agencies.
Justice Minister Naomi Long said: "The holding of an inquest at the ICC Nightingale venue is another significant milestone in our effort to ensure that courts and tribunals can continue to operate safely and effectively during the pandemic.
"The facilities at the ICC are such that they can safely accommodate a hearing of this kind within the current public health requirements for two metre social distancing. Other Covid safety measures are in place such as the provision of hand gel dispensers and the wearing of face coverings in the courtroom.
"One of the advantages of the ICC as a venue for inquests is that it will increase capacity for inquests so more family members will be able to ascertain the cause of death of their loved one."
Coroner Paddy McGurgan added: "This is an excellent venue which provides the space for hearings to take place in a Covid-safe way. Inquests are an essential part of the justice system that provide a means of investigating the circumstances into how a person died. An inquest can be traumatic for families but it can also provide answers which may help with the grieving process.
"We can hopefully reduce some of that trauma by ensuring that inquests can now proceed without any further avoidable delay. I would like to thank the Northern Ireland Courts and Tribunals Service for getting this venue up and running."