ICC Belfast deployed as first 'Nightingale venue' for courts business
---

---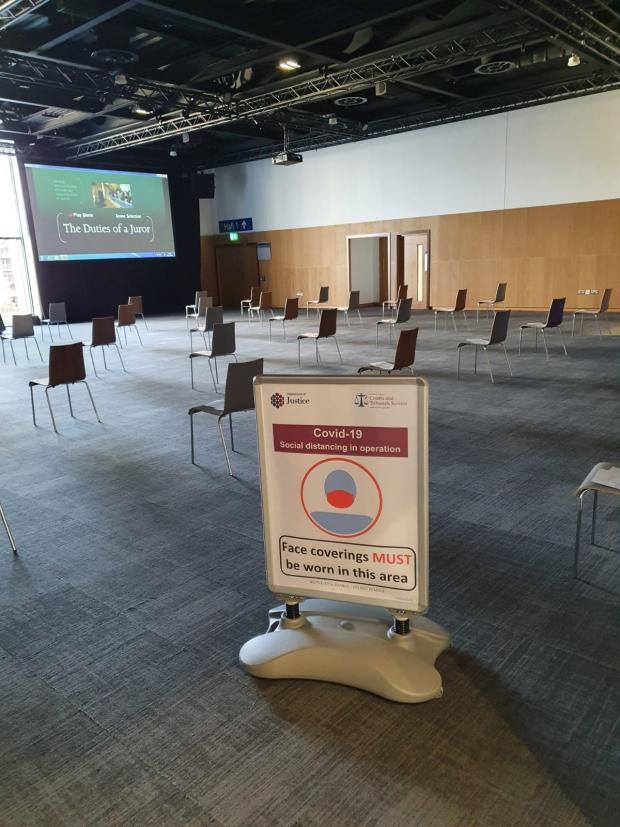 The International Convention Centre in Belfast (ICC) has been deployed as Northern Ireland's first "Nightingale venue" to facilitate court and tribunals business.
However, the ICC is only being used for jury assembly this week pending "rigorous risk assessments", which the Northern Ireland Courts and Tribunals Service (NICTS) hopes will allow additional functions to be "phased in".
This would include using the venue for benefits appeals hearings and coroner's inquests in the coming weeks, and as pre-hearing consultation space for legal representatives.
Justice Minister Naomi Long said: "The deployment of ICC Belfast as a Nightingale venue will help our courts and tribunals to make further inroads into the case backlog during 2021, as well as freeing up other courtrooms in the Laganside Court complex that are being used for juror deliberation.
"I am delighted that such an important asset, as ICC Belfast undoubtedly is, is being put to use in this way."
The minister said: "NICTS will not be undertaking any additional activity at the ICC that wouldn't otherwise occur in one of its own venues. The facilities at the ICC actually provide more space for social distancing than is currently the case on NICTS's Belfast estate."
She added: "Given the evolving situation around Covid, NICTS will continue to work closely with the judiciary, with tribunal panel members and public health bodies to assess the implications for all its operations and to also make sure that all activity at the Nightingale venue and its properties can be conducted safely."
Julia Corkey, chief executive of ICC Belfast, Waterfront Hall and Ulster Hall, said: "We are delighted to welcome NICTS to ICC Belfast to support its back office, courts and tribunals operations. The pandemic has resulted in a backlog of cases and we are pleased to be able to provide the space required to enable NICTS to continue to provide its important service in a Covid secure way."