Legal academics appointed to Royal Irish Academy committee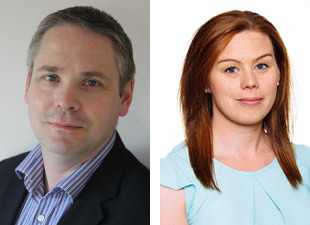 Two legal academics have been appointed to the Royal Irish Academy's (RIA) ethical, political, legal and philosophical studies committee.
Dr Dug Cubie of University College Cork (UCC) and Dr Laura Cahillane of the University of Limerick (UL) are the latest to join the multi-disciplinary committee, which was established in 2014 and operates on an all-island basis.
The committee aims to promote co-operation across and within its scholarly disciplines, to advise, contribute and guide Academy policy in these areas and to engage the public on issues of topical interest.
Dr Cubie is the director of the Centre for Criminal Justice and Human Rights at UCC School of Law and his main research interests are in the areas of humanitarian action, disaster law, climate justice and refugee protection.
Dr Cahillane is a senior lecturer in UL School of Law and her research interests lie in the areas of constitutional law, legal history and judicial politics.