NI: Lawyers welcome extension of jury trials to six court venues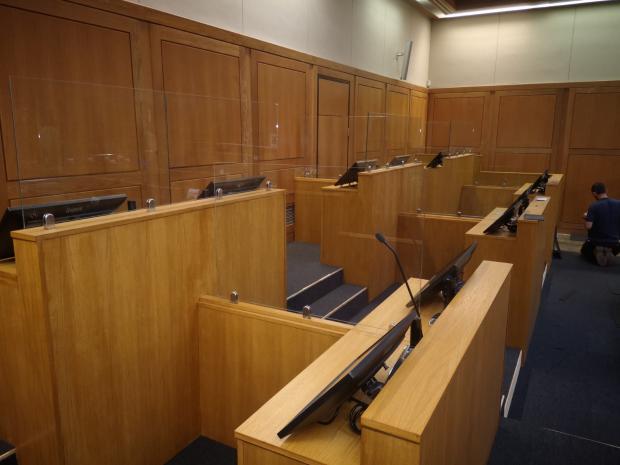 Lawyers have welcomed an extension of jury trials to include a total of six court venues across Northern Ireland.
Trials are now taking place in the Laganside Courts in Belfast as well as in Antrim, Craigavon, Newry, Coleraine and Dungannon Courthouses.
Laganside, which became the first courts venue to resume trials in August, is currently operating three Crown Courts.
Justice Minister Naomi Long said: "A considerable amount of time and effort has been put into ensuring jury trials can proceed safely at a number of venues amid concerns about Covid in the wider community.
"Courtrooms have been reconfigured and rebuilt, with glass and Perspex screens installed for added protection. Technology has been harnessed. Hand sanitation and two-metre social distancing measures have been implemented for defendants, witnesses, jurors, judges, legal representatives, courts staff, security staff and observers in line with the public health guidance.
"All of this work, plus the deployment of technology for remote, hybrid and in-person hearings has ensured that justice has not ground to a halt in the criminal, civil and family courts and also tribunals.
"The progression of cases is important for victims, complainants, defendants and witnesses and our courts and tribunals are striving in unprecedented times to ensure we can do just that."
Since August, the number of court venues in use has expanded to 15 to deal with criminal, civil and family cases and tribunals, with up to 57 courtrooms available for courts and tribunals business. 17 trials have been listed to date in Belfast alone.
A spokesperson for the Bar Council of Northern Ireland told Irish Legal News: "The Bar Council welcomes the extension and is involved in regular ongoing engagement with stakeholders across the sector on the recovery of the criminal justice system.
"The progression of cases is very important for all involved despite challenging circumstances. Considerable effort has been put in by all parties to allow trials to proceed safely at these new venues."