NI: Jury trials resume in Northern Ireland for first time in five months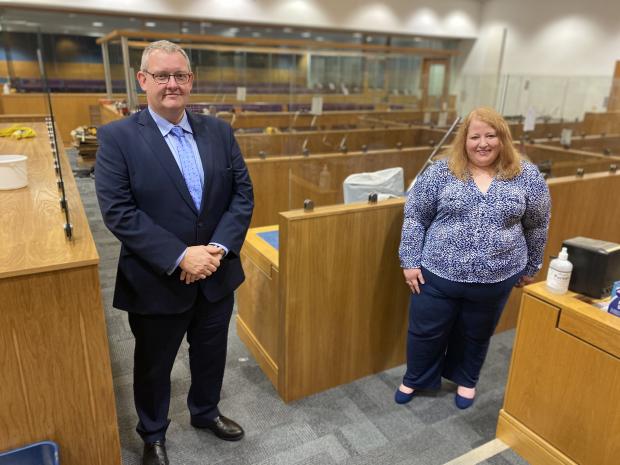 Jury trials have resumed in Northern Ireland for the first time since the start of the COVID-19 crisis in March.
Following physical alternations to allow jury trials to take place in line with public health guidelines, a jury trial has begun in Laganside Court in Belfast, and five more Crown Court venues are due to open by the end of September.
The recommencement of jury trials marks the latest stage in the recovery of the justice system following the easing of restrictions put in place in response to the COVID-19 pandemic.
Justice Minister Naomi Long said: "Jury trials are one of the cornerstones of our justice system and it is a hugely significant step that we are now in a position to accommodate them again.
"At the height of the COVID-19 pandemic and the lockdown restrictions, it was logistically impossible to hold jury trials.
"I recognise this will have been hugely frustrating and distressing for those who have been awaiting the outcome of cases. I want to reassure those impacted that everything possible has been done to get jury trials up and running in the safest and most efficient way possible."
Sarah Ramsey QC, chair of the Bar Council of Northern Ireland, said: "Jury trials are essential to our criminal justice system and to the rule of law. We have been working in partnership with all those involved in the delivery of criminal justice in recent months to plan for the safe resumption of this fundamental part of the trial process.
"It is very reassuring that efforts to restart jury trials have involved a cautious and planned approach which very much prioritises practical measures to ensure the safety of all those attending court venues.
"Undoubtedly the COVID-19 pandemic has had a profound impact on the legal and justice system as the Lord Chief Justice consolidated all court business into five venues to deliver urgent business with many hearings using video technology.
"Throughout the pandemic our barristers have been motivated by a strong sense of duty to continue to serve the administration of justice to the fullest extent possible, adapting to the necessary changes in these unprecedented times. We are continuing to work with stakeholders across the justice system to plan for the graduated increase in court activity in the weeks ahead as we approach the start of the new legal year."
The measures introduced to allow jury trials to proceed safely include the adoption of a two-court model for Crown Court trials, with one courtroom being used for hearings and another used for jury deliberation.
Physical distancing will be in place in courtrooms and all public waiting areas. There will be either two metres' space or screens between all court participants, including between jurors.
Court users entering court buildings must wear face masks in all communal public areas like waiting areas and lobbies. A face covering may also be worn during proceedings, unless a judge directs an individual to remove it.
From 24 August 2020, courts will operate from 12 multiple courtroom venues dealing with criminal, civil and family cases. There will be capacity for 18 magistrates courts, with other courtrooms being used for Crown Court, County Court, coroners and tribunal business.
Ms Long said: "Courts will continue to undertake as much business as possible remotely but the increased capacity will facilitate a move away from urgent and agreed business only to a focus on case progression and disposal."
She added: "All of these new practices are being evaluated and some new practices will be maintained as we move forward to streamline and speed up the justice system.
"A huge amount of work has gone into getting this far and I want to thank everyone in our courts and tribunals, the judiciary and across the legal profession and the wider justice family who have worked hard throughout lockdown to ensure the process of justice did not grind to a halt and continued to be delivered throughout this health crisis."