NI: Hospitalised solicitor Niall Murphy 'improving' in coronavirus battle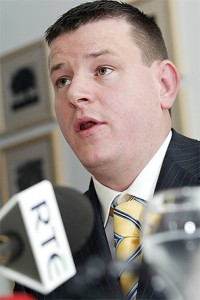 Prominent Belfast solicitor Niall Murphy, who has spent almost two weeks in hospital with coronavirus, is showing signs of improvement, according to reports.
Mr Murphy, 43, is a partner at KRW LAW LLP and is known for his work as a criminal defence lawyer and in representing victims of state violence during the Troubles.
He was in a "critical but stable" condition last week after being placed on a ventilator in a medically induced coma, prompting an outpouring of support from the legal community.
According to The Irish News today, Mr Murphy's "oxygen levels have been gradually improving and he has been responding to medical staff", though he remains on a ventilator.
The Law Society of Northern Ireland and The Bar of Northern Ireland have both extended their best wishes to Mr Murphy.
In a statement last week, the Bar said: "The legal community is uniting in support of each other throughout this crisis - our thoughts are with Niall and we hope that he makes a full recovery."
The Law Society added: "Our thoughts, prayers and support are with you."