Dagmar Schiek joins UCD Sutherland School of Law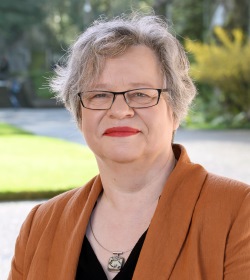 UCD Sutherland School of Law has welcomed Dagmar Schiek to the faculty as full professor of EU law and labour law.
Professor Schiek joins UCD from University College Cork, where she held the Synnott Family Chair in EU law and directed the Jean Monnet Centre of Excellence EU Integration and Citizens' Rights.
She has been a professor of EU law from 2000, and a Jean Monnet ad personam Chair from 2011, with a background in comparative labour law and anti-discrimination law.
She joins UCD Sutherland School of Law with the project RIGHTS TO UNITE, which develops a new socio-legal theory of European integration, questioning the extent to which the Union can rely on the integrative capacity of its law in its Member States and neighbouring countries.
The project combines theoretical inquiry with comparative research in eight smaller states in the EU and its neighbourhood (Czechia, Georgia, Greece, Ireland, Northern Ireland (UK), North Macedonia, Norway, Sweden).
Professor Schiek has a PhD from the University of Hamburg, where she studied law, and a Habilitation from the University of Bremen, where she commenced her academic career as an associate professor.
She has established interdisciplinary centres for EU research at the University of Leeds (2007-2014) and Queen's University Belfast (2014-2020), and has held visiting positions at University of Melbourne, University Viadrina Frankfurt (Oder), University of Christchurch (New Zealand), Kyiv Mohyla Akademi Law School, London School of Economics and Maastricht University.
Professor Colin Scott, principal of UCD College of Social Sciences and Law and vice-president for equality, diversity and inclusion at UCD, said: "Professor Schiek joined the Faculty on November 1, bringing not only outstanding research credentials and extensive international teaching experience, but also great experience in research leadership.
"At UCD, she will develop new institutional collaborations on EU law and comparative labour law."
Professor Laurent Pech, Dean of law and head of the UCD Sutherland School of Law, added: "The Sutherland School of Law is delighted to welcome Professor Schiek, a leading expert in socio-legal studies of EU Law and Labour Law and the first legal scholar in Ireland to secure a European Research Council (ERC) Advanced Grant.
"Professor Schiek's appointment will further strengthen our research and teaching capabilities in the field of European studies and provide us with the unique opportunity to hire a team of researchers working in multiple jurisdictions due to the comparative nature of Professor Schiek's ERC research project."