NI: Westminster to intervene over commissioning of abortion services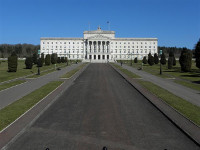 The UK government will intervene to commission abortion services in Northern Ireland following Health Minister Robin Swann's failure to do so, according to reports.
Northern Ireland Secretary Brandon Lewis is this week expected to introduce regulations which will give him the power to direct the commissioning of abortion services.
The move comes around a year after Northern Ireland's traditionally restrictive abortion regime was eased through Westminster legislation in the absence of a functioning Northern Ireland Executive.
Human rights campaigners have been fiercely critical of the devolved administration's failure to commission and fund abortion services in spite of the change in the law, and the Northern Ireland Human Rights Commission (NIHRC) recently launched legal action over the matter.
Grainne Teggart, Northern Ireland campaigns manager for Amnesty International, said: "One year since abortion regulations were published, it is unacceptable that these services have yet to be commissioned. This is a damning indictment of the failure of the Northern Ireland Health Minister to prioritise the health of women and girls.
"The Northern Ireland Office has legal obligations to ensure the regulations are applied. Once again it is necessary for Westminster to act to ensure abortion rights are realised.
"This healthcare must be accessible to all who need it which can only come through a commissioned and well-resourced service."