Weekend Books – Are You With Me?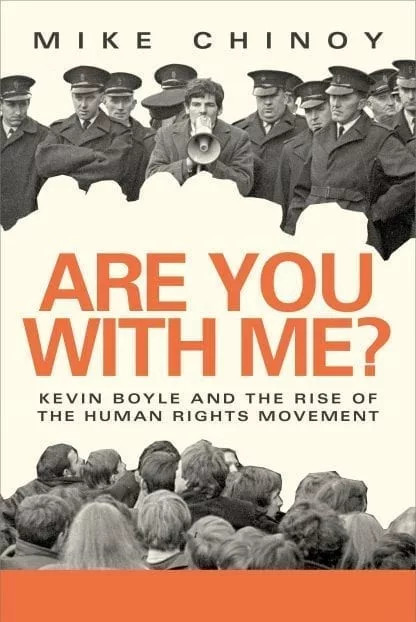 Irish Legal News editor Connor Beaton assesses Mike Chinoy's new biography of Irish human rights lawyer Kevin Boyle.
An accidental pioneer of international human rights law, Kevin Boyle would be furious if he was alive today – not only at prevailing injustices around the world, but also at continued political assaults on international human rights standards, represented most recently in the UK by Boris Johnson's refusal in March to formally commit to the European Convention on Human Rights as part of a UK-EU trade deal.
Boyle's journey, carefully traced by former CNN correspondent Mike Chinoy, begins in earnest on the streets, as a young law lecturer centrally involved in the civil rights movement that shaped the history of Northern Ireland. His increasing disillusionment with the movement coincides with his transformation into both an accomplished barrister and later an esteemed legal academic whose work on issues as wide-ranging as torture and imprisonment, LGBT rights and freedom of expression quickly takes on remarkable international significance.
Chinoy draws on a wide range of interviews, letters and speeches from Boyle's erstwhile comrades, students, colleagues and friends to bring out in detail how his ideas on the law developed, linking his early activism around discrimination and poverty in Northern Ireland to his later embrace of the post-war human rights framework, which he first uses to challenge abuses by British security forces. Human rights lawyer Conor Gearty, one of many distinguished lawyers interviewed by Chinoy, recalls his own inspiration on hearing Boyle extol the use of the law "not to mystify and stifle the people but rather to empower and therefore to enrich them".
Nearly half of Chinoy's book focuses on Boyle's direct involvement in the civil rights movement, primarily as part of the left-wing People's Democracy group and also as part of the Northern Ireland Civil Rights Association (NICRA). These chapters form a sympathetic account of Boyle's conflict with others in the movement, punctuated with major events and paramilitary attacks; unapologetically biased towards his position as a "moderate" within the movement, they serve principally to contrast Boyle's early experience of street protest with his later embrace of the law, culminating in his eventual reinterpretation of many civil rights slogans as "economic and social right demands".
The later chapters are of much greater legal interest, documenting Boyle's appointment as the first full-time law lecturer at University College Galway (later NUI Galway) and his work to establish groundbreaking human rights centres there and at the University of Essex. Chinoy writes convincingly on the great influence of Boyle's legal analysis on the nascent Northern Ireland peace process, buttressed by sources including former president Mary Robinson and former senior Irish civil servant Walter Kirwan. His description of Boyle's most significant (and often lesser-known) cases before courts and tribunals in Britain, Ireland and abroad in many respects lives up to Boyle's own noteworthy "ability to explain complex legal matters in a straightforward way".
For lawyers, law students and lay people alike, Chinoy's book is a worthwhile read and a fitting homage not only to an individual pioneer of international human rights law, but also to the underestimated power of the law in challenging injustice and inequality around the world.
Are You With Me? Kevin Boyle and the rise of the human rights movement by Mike Chinoy. Published by Lilliput Press, 399 pp.