Tributes paid to 'pioneering' lawyer-turned-politician Mervyn Taylor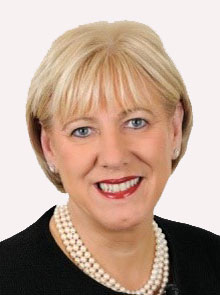 Tributes have been paid to the "pioneering" lawyer-turned-politician Mervyn Taylor, who passed away yesterday at the age of 89.
Mr Taylor, a solicitor who went on to become a Labour TD, served as minister for equality and law reform under two coalition governments between 1993 to 1997.
He also made history as the first Jewish person to serve as a cabinet minister in Ireland.
Justice minister Heather Humphreys said: "As a pioneering minister for equality and law reform between 1993 and 1997, he will rightly be long remembered for steering the referendum that allowed for the introduction of divorce in Ireland, allowing people to rebuild their lives after unsuccessful marriages.
"He also initiated the Employment Equality and Equal Status Acts in the Oireachtas, and enacted an amendment to the Interpretation Act to promote gender inclusive language.
"His record as a Minister, and his service as a member of the Human Rights Commission, contributed substantially to greater levels of equality in Irish society, a contribution that will last long into the future."
President Michael D. Higgins said: "Mervyn Taylor will be remembered by all those who had the privilege of working with him, as a distinguished public servant who served with such dedication, as one of the most gracious, unselfish and kindest members ever to serve in the Dáil.
"He had the gift of patience and attention to detail. He will be remembered for some of the ground-breaking legislation he introduced, including the Domestic Violence Act, the establishment of the National Disability Authority, and the passing of the divorce referendum.
"Those of us who had the privilege of knowing him, of calling him our friend and colleague will miss him deeply. I recall with fondness many of my conversations with him."