Tribute paid to 'very fine lawyer' Ivan Daly BL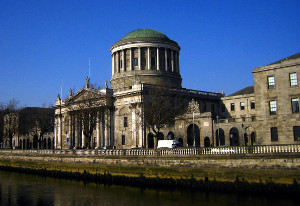 Tribute was paid to Ivan Daly BL in the High Court yesterday as the late barrister's funeral took place at Beechwood Avenue Church.
Mr Justice Brian O'Moore, speaking prior to the afternoon session of the common law list, told the court he "wanted to be among the very many people" attending the funeral.
Mr Daly, a barrister with more than 30 years' experience on the eastern and Dublin circuits, died suddenly last Monday 12 July.
He was laid to rest following the funeral mass yesterday alongside his late father, Marcus Daly SC, in Kilternan Cemetery Park on Ballycorus Road.
Mr Justice O'Moore said: "Ivan was known to almost all of you, and was a very good friend to me and to a host of others. Ivan was a person of enormous charm, discrete generosity and unfailing good humour. It was always a real pleasure to be in his company.
"Ivan's gregarious personality could occasionally hide the fact that he was a very fine lawyer. He knew when to fight a case. He could read a case impeccably and knew when to settle it. As an advocate he was effective as he was understated.
"Ivan will, it need hardly be said, be sorely missed by all of us."