Three new associates at Carson McDowell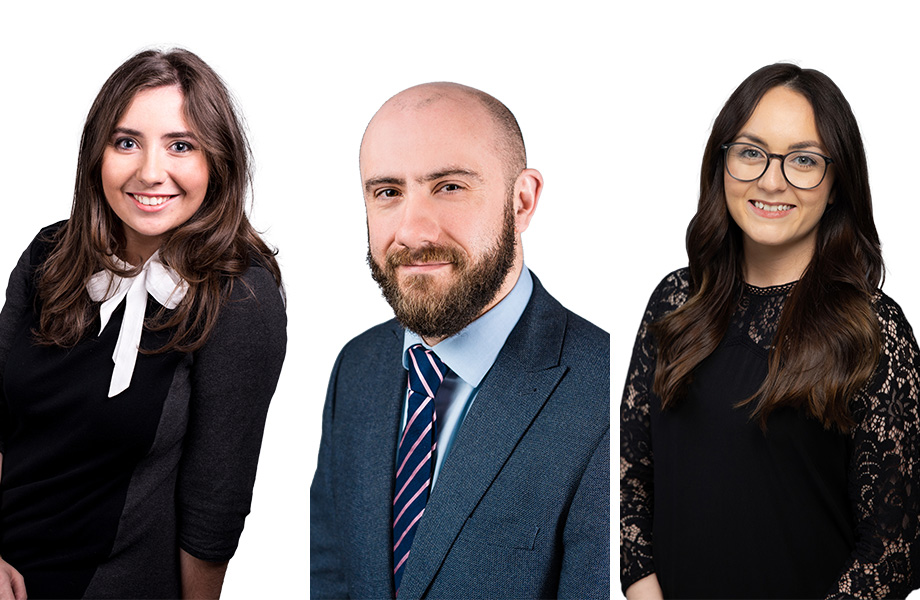 Belfast-based Carson McDowell has promoted Shannon Gawley, Andrew McWilliams and Ciara FitzPatrick from solicitor to associate.
Ms Gawley, promoted to associate in the firm's commercial team, trained with Carson McDowell, qualifying as a solicitor in 2018. She was recently elected as chair of the Northern Ireland Young Solicitors' Association (NIYSA) and as vice-president of the European Young Bar Association (EYBA).
Ms Fitzpatrick, in the healthcare team, also trained with the firm, qualifying in 2020. She previously worked as a paralegal with a global law firm. She is qualified to act north and south of the border.
Mr McWilliams, in the real estate team, joined the firm in July 2021, having qualified in 2018 after training with another commercial law firm in Belfast.
Managing partner Roger McMillan told Irish Legal News: "I would like to congratulate Shannon, Ciara and Andrew, who I know will each, through their contributions, add significant value to our team. All three demonstrate technical excellence, teamwork and regularly go above and beyond for the firm's clients.
"As well as a reputation for excellence, Carson McDowell has a strong track record of hiring and developing the best talent. We want to retain that talent as we look to the future and are committed to continued investment in our people."
Neasa Quigley, senior partner, added: "I would like to add my congratulations to our new associates and thank them for their hard work delivering exceptional legal advice to our clients.
"These appointments come in response to the firm's continued growth and success across a number of sectors and reflect our commitment to developing talent internally to drive high performance across our business."