Sir Declan Morgan: Legacy plans 'will need rethink' if found in breach of human rights law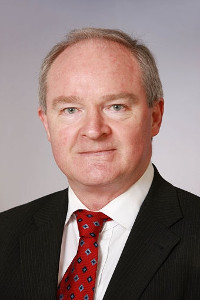 Controversial UK government plans to offer amnesties for killings during the Troubles will have to be reconsidered if ruled to be incompatible with European human rights law, Sir Declan Morgan has said.
Sir Declan, a former Lord Chief Justice of Northern Ireland, is to serve as the chief commissioner of the proposed Independent Commission for Reconciliation and Information Recovery (ICRIR).
The creation of the body is a key component of the Northern Ireland Troubles (Legacy and Reconciliation) Bill, which is expected to become law shortly after Westminster returns from its summer recess.
The proposed law aims to end criminal investigations and civil cases linked to the Troubles, with the ICRIR instead carrying out inquiries and having the power to offer immunity from prosecution to those who co-operate with it.
Speaking to RTÉ News, Sir Declan said there will "have to be a rethink" if the Northern Ireland courts subsequently rule that the immunity provisions are incompatible with the UK's international human rights obligations.
He said his "three grounding principles" for the commission are its ability to deliver, its compatibility with the Good Friday Agreement and its compatibility with the European Convention on Human Rights.
A spokesperson for the Irish government told RTÉ: "The Tánaiste has raised the government's concerns around this legislation with British counterparts on multiple occasions.
"The government believes that the bill, which is a unilateral departure from the Stormont House Agreement, is not fit for purpose, and raises fundamental issues around compatibility with international human rights obligations.
"We urge the British government to pause the legislation, and return to an agreed approach that enjoys the support of all major stakeholders, puts victims at its centre and is compliant with international human rights standards."