NI: Proposals to reform trade union laws out to consultation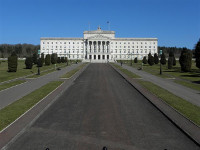 Proposals to reform trade union legislation in Northern Ireland for the first time since devolution have gone out to consultation.
The Trade Union Freedom Bill, brought forward by People Before Profit MLA Gerry Carroll, aims to "allow trade unions to strike more efficiently and effectively".
The legislation has been modelled on a draft bill drawn up by the Trade Union Congress (TUC) in Britain, and which received widespread support from trade unions.
It would remove the ban on solidarity/secondary actions; remove the legal requirement for postal/secret ballots; reduce the notice period mandated before a ballot for industrial action can be taken; and simplify the nature of the information which unions are required to provide in ballot notice to the employer.
The consultation survey states: "If passed, this bill could be the first step toward re-introducing a balance of power in the workplace, and creating trade union legislation which is fit for the 21st century, after COVID-19.
"In recent years, privatisation, outsourcing and restructuring of companies and services has become widespread. We are likely to see more mass redundancies and huge cost-cutting exercises at the expense of workers, because of the impending economic crisis. Yet trade unions had greater freedom to challenge these issues over 100 years ago than they do now."