Postgrad student Eoghan O'Connell awarded Maples scholarship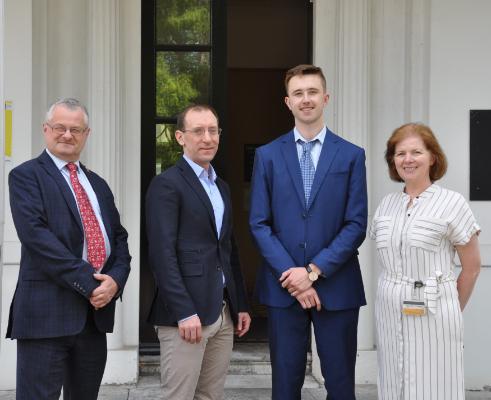 Postgraduate student Eoghan O'Connell has become the first recipient of a new €5,000 scholarship from Maples and Calder (Ireland) LLP, the Maples Group's law firm.
The Maples Group scholarship benefits one postgraduate student studying for the LLM in Business Law at University College Cork (UCC) each year.
The scholarship was awarded to Mr O'Connell following an application process involving the submission of a personal statement and an interview with a panel comprising of representatives from the Maples Group and UCC School of Law.
Mr O'Connell said: "I am extremely grateful to be the recipient of the Maples Scholarship. It is a privilege to be associated with the Maples Group and I am delighted that they have decided to invest in my future and support me in the next step of my legal career."
William Fogarty, graduate recruitment partner at the Maples Group, said: "On behalf of the Maples Group, I would like to congratulate Eoghan on this achievement and wish him continued success as he commences the next phase of his legal career.
"Eoghan is the first of many students to benefit from the Maples Group scholarship and we look forward to continuing our partnership with UCC, to support more students as they develop their legal careers."
Dr Fidelma White, programme director of the LLM in Business Law at UCC, said: "The LLM in Business Law combines a focus on the realities of business law in practice with a broader discussion of relevant theoretical and policy issues.
"The Maples Group scholarship is a further example of the close working relationship between academia and practice, providing much needed support to students at the UCC School of Law."
Professor Mark Poustie, Dean of the UCC School of Law, said: "Upskilling through LLM study can be vitally important to ensuring competitiveness in the jobs market. Maintaining wide access to LLMs through financial supports is hugely important at a time of increased student need.
"The School is thus very grateful to the Maples Group for their generous provision of this scholarship which contributes to addressing those needs and ensuring wider access. My sincere thanks to Maples and my congratulations to the first recipient of the scholarship."