PhD student defends thesis in first UCC School of Law 'virtual viva'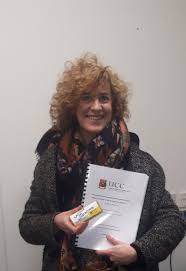 PhD student Jane Mulcahy has defended her thesis on post-release supervision of long-sentence male prisoners in UCC School of Law's first-ever "virtual viva".
Ms Mulcahy had to defend her thesis, Connected Corrections and Corrected Connections: post-release supervision of long sentence male prisoners, via Microsoft Teams because of COVID-19 restrictions.
Internal examiner Professor Caroline Fennell, external examiner Professor Fergus McNeill of the University of Glasgow, independent internal chair Professor Frederic Adam of Cork University Business School, and PhD supervisors Dr Fiona Donson and Dr Catherine O'Sullivan attended from home.
In her thesis, detailed on the UCC website, Ms Mulcahy establishes the desirability of adopting a connected, healing-centred approach in which multiagency collaboration is prioritised in order to improve outcomes for long sentence male prisoners.
Ms Mulcahy said: "While I was disappointed that the pandemic and resulting lockdown meant that I would be unable to defend my thesis with my two examiners in person, and was rather nervous about the quality of the internet connection, in fact the experience was much better than anticipated.
"I was so absorbed in the questions, focused on providing as succinct and robust responses as I possibly could, that I did not dwell on the fact that I was speaking to a screen with five small faces. The presence of an independent chair was also a comforting precaution.
"All in all, I was very happy with how I acquitted myself and am not sure I would have performed any better if we were all in the same room together."