Northern Ireland Secretary 'failed to comply' with duty to provide abortion services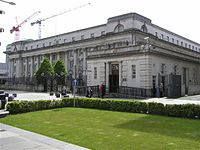 The Secretary of State for Northern Ireland failed to comply with his statutory duties to "expeditiously" provide women in Northern Ireland with access to high-quality abortion and post-abortion services for over a year, the High Court has ruled.
In a case brought by the Northern Ireland Human Rights Commission (NIHRC), Mr Justice Adrian Colton found that, in the period between April 2020 and March 2021, the Northern Ireland Secretary failed to comply with his duties under section 9 of the Northern Ireland (Executive Formation etc) Act 2019.
However, the judge declined to make an order of mandamus against the Northern Ireland Secretary compelling him to make the services available. He also dismissed a claim for judicial review against Northern Ireland's health minister and the Executive.
Alyson Kilpatrick, NIHRC chief commissioner, said: "This was an important case for the Commission to take to uphold the human rights of women and girls in Northern Ireland. We welcome the High Court judgment today and will now take time to review the impact of the decision."
Ms Kilpatrick continued: "Abortion was legalised in Northern Ireland in 2019 yet in 2021 women and girls continue to have to travel to England to access abortion services, are forced to continue a pregnancy against their wishes or take unregulated abortion pills. The Commission brought this case because of the unacceptable delay in the provision of adequate services.
"As a result of the Commission's previous case in the UK Supreme Court, provision was made for the delivery of services (by the Abortion (No.2) Regulations 2020) to women and girls in Northern Ireland. It remains the case that there is a legal obligation to provide and fund adequate services in Northern Ireland.
"Moreover, the Secretary of State's direction requires adequate service to be in place by no later than March 2022. This judgment has not displaced the obligation to provide those services, but we remain concerned at the likelihood of further delay continuing.
"Given the violation of the rights of women and girls highlighted so starkly in the United Nations CEDAW report, we will continue to work to ensure that an appropriate level of service is provided in Northern Ireland."
She added: "The Commission notes the judge's observation that the Commission's letter before action prompted the Secretary of State to take action. We hope the judgment does the same for Department of Health.
"The NI Executive's responsibility to uphold the human rights of women and girls remains. We will continue to monitor progress on the commissioning and funding of the service in Northern Ireland."