Law Society commends Sinn Féin TD for 'exposing' insurance companies on fraud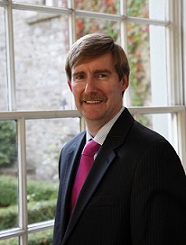 The Law Society of Ireland has commended a Sinn Féin TD for "exposing the soaring super-profits" of insurance companies, who have blamed high insurance premiums on fraudulent personal injury claims.
Pearse Doherty, Sinn Féin's finance spokesperson, challenged representatives of major insurers at this week's meeting of the Oireachtas finance committee over how many suspected fraudulent claims had been referred to by insurers to gardaí.
A video clip of the exchange has gone viral on social media, having been viewed over half a million times on Twitter.
Justice Minister Charlie Flanagan was among those who shared the video, adding: "I don't often agree with Sinn Féin but I'm 100% with Pearse Doherty on fraudulent insurance claims. Insurance industry must do more to reduce costs."
Ken Murphy, director general of the Law Society, said: "Pearse Doherty's questions laid bare the insurers' distraction technique of blaming false and exaggerated claims, rather than their own profiteering, for the excessive premiums that threaten the survival of so many Irish businesses.
"It is now clear that insurers are making enormous profits while Irish businesses struggle to pay exorbitant premiums. We are glad to see political recognition that it is insurance companies, themselves, not the victims of accidents, the judiciary or the legal profession, who must answer for the incredibly burdensome premiums they are choosing to charge their customers.
"It is also clear that a primary source of false and misleading claims in this public debate is the insurance industry itself. In the light of what Deputy Doherty's fearless and forensic questioning has exposed about false and exaggerated claims, should the insurers not report themselves to the gardaí?"
New figures from the Courts Service, published yesterday, revealed a significant fall in personal injury awards last year.
Awards made in medical negligence cases in the High Court were down from €99 million in 2017 to €91.4 million in 2018, a decline of 7.5 per cent. The average award per case reduced from €1.98 million to €1.04 million, a drop of over 47 per cent.
In all High Court personal injury case, there was a drop of almost 19 per cent in the total amounts awarded and a 23 per cent drop in the average amount awarded in each case, from €457,854 to €351,263.