NI: Last man given death penalty wins battle over access to inquest files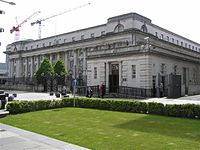 The last man sentenced to death in Northern Ireland has won a High Court battle over his right to access coroners' inquest files held in the Public Record Office of Northern Ireland (PRONI).
Applicant William Holden was given the death penalty following his conviction in 1973 of the murder of Private Frank Bell, but this was subsequently commuted to a life sentence.
He was eventually released after 17 years following a successful referral of his case to the Court of Appeal by the Criminal Cases Review Commission (CCRC).
His conviction was quashed on the basis that the non-disclosure of documents which had been provided to the Court of Appeal in a confidential annex could have supported an application to exclude evidence contained in a confession he made at the time.
Mr Holden has subsequently pursued a claim for compensation as a consequence of the miscarriage of justice and has issued civil proceedings against the Ministry of Defence and the Chief Constable of the PSNI.
To further his compensation claim and civil proceedings, Mr Holden's solicitors wrote to PRONI seeking access to the inquest file in respect of Private Bell as a "properly interested person" in accordance with Rule 38 of the Coroners (Practice and Procedure) Rules (NI) 1963.
PRONI refused to disclose the documentation without conditions or redactions, arguing that the Northern Ireland Courts and Tribunals Service (NICTS) had disapplied Rule 38 of the 1963 Rules to inquest files transferred to PRONI.
Handing down judgment in the High Court yesterday, Lord Justice Treacy said the 2013 legal advice relied upon by NICTS had erroneously narrowed the scope of Rule 38.
The judge said: "There is, quite simply, no basis for such a narrow reading of Rule 38. Nothing in the 1923 Act governing PRONI, or anywhere else, calls for such a reading.
"Rule 38 has never been repealed. The archiving of Rule 38 documents does not mean the relinquishment of legal control. The power, and its exercise, under Rule 38 remains vested in 'a coroner'."
The court concluded that Rule 38 should be applied to the applicant's request. It added that the pilot scheme and the undertaking fettered the presumptive right of a properly interested person to full access to the inquest file (subject to the coroner's full consideration of matters relevant to disclosure) and it was therefore unlawful to apply that scheme to the applicant in this case.
It said the lawfulness and the impugned undertaking as it might have applied to other parties (i.e. parties who are not properly interested persons) is beyond the scope of these proceedings.