NI: Judge concludes there is 'real prospect' Omagh bombing could have been prevented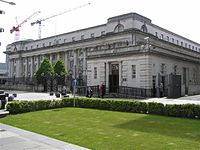 It is "plausible" that security services had "a real prospect of preventing the Omagh bombing", a High Court judge in Belfast has ruled.
In a judgment delivered this morning, Mr Justice Mark Horner called for new Article 2-compliant investigations to take place on both sides of the border.
The case was brought by Michael Gallagher, the father of one of the victims of the 1998 bombing.
He said: "It is not within my power to order any type of investigation to take place in the Republic of Ireland but there is a real advantage in an Article 2-compliant investigation proceeding in the Republic of Ireland simultaneously with one in Northern Ireland.
"Any investigation will have to look specifically at the issue of whether a more proactive campaign of disruption, especially if co-ordinated north and south of the border, had a real prospect of preventing the Omagh bombing, and whether, without the benefit of hindsight, the potential advantages of taking a much more aggressive approach towards the suspected terrorists outweighed the potential disadvantages inherent in such an approach."
The full judgment has not been published pending "security checking to ensure that no sensitive material is inadvertently released", a courts spokesperson told Irish Legal News.
Mr Justice Horner prepared both an open judgment and a closed judgment. The open judgment will be published when the check has been completed.