NI: High Court to hear landmark case on access to abortion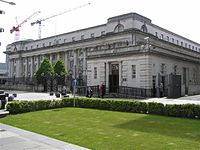 The High Court in Belfast will this week hear a landmark legal challenge aimed at finding Northern Ireland's abortion law in breach of the UK's human rights commitments.
The case is being taken by Sarah Ewart, a woman who travelled to England for an abortion after a fatal foetal abnormality diagnosis, with support from Amnesty International.
The hearing will begin tomorrow morning and conclude on Friday.
The case was launched following the UK Supreme Court's ruling last June that Northern Ireland's abortion law breaches the UK's human rights obligations, but that the Northern Ireland Human Rights Commission (NIHRC) did not have standing to bring proceedings as it was not a "victim" of the law.
Ms Ewart and Amnesty are aiming to achieve a declaration of incompatibility by bringing an individual's case to the courts.
Grainne Teggart, Amnesty's Northern Ireland campaign manager, said: "Last June, the UK's Supreme Court made clear that the UK was in breach of its human rights obligations, but the final judgment couldn't be made because an individual hadn't brought the case forward. Sarah has bravely stepped up to be the individual who takes the case to the court.
"This hearing is our opportunity for an official judgment that Northern Ireland's abortion law breaches the UK's human rights commitments."