Diversity scholarship awarded to UCC law students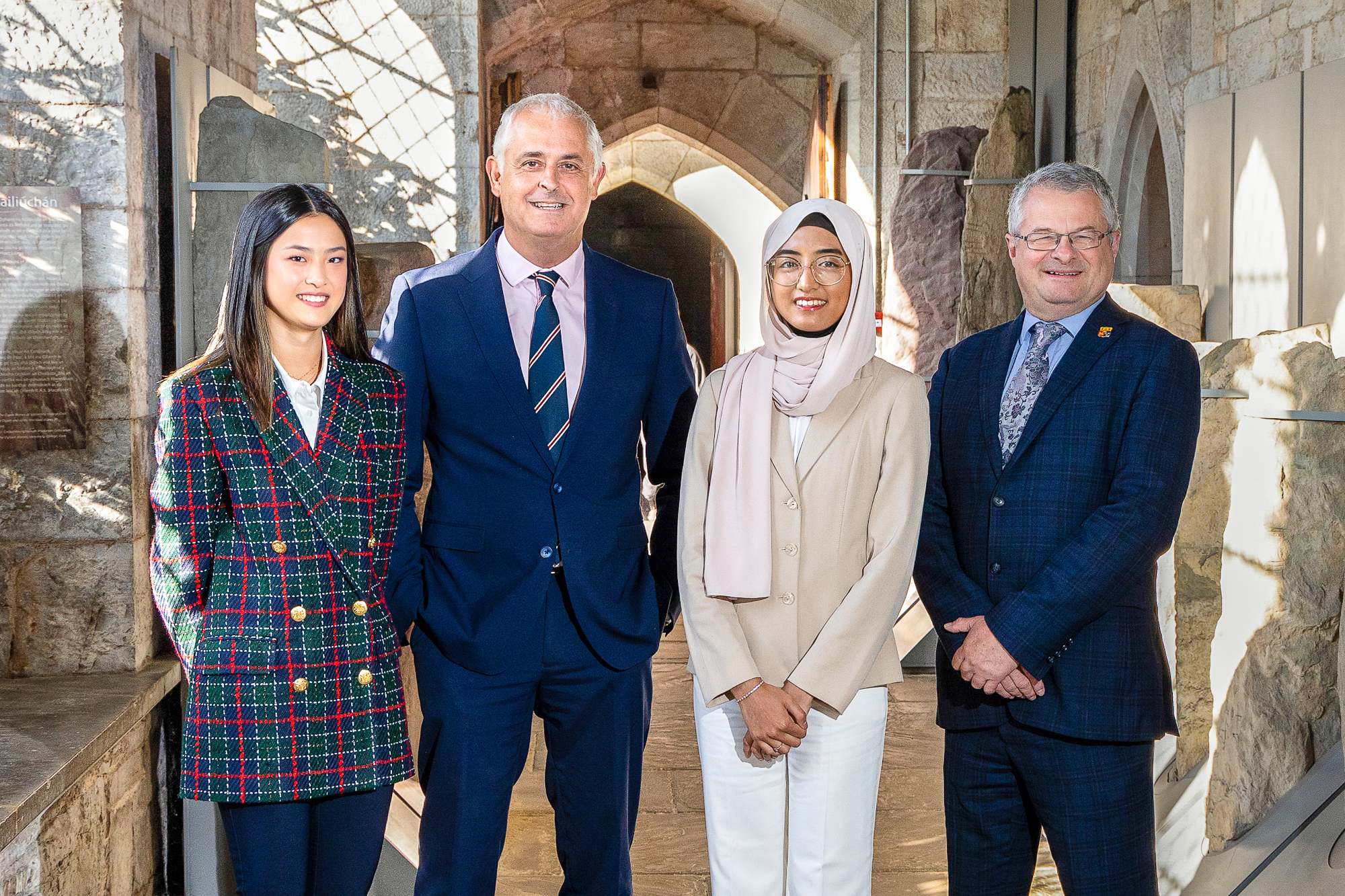 UCC law students Aoife Nazneen Nurul Khasri and Ruth Fu Dong McKernan have each received a scholarship worth €5,000 and a work placement opportunity with law firm RDJ.
The RDJ Diversity Scholarship, which commenced in 2021, supports students from Black, Asian and minority ethnic backgrounds studying law at UCC, with the aim of encouraging diversity in the legal profession.
RDJ has donated €40,000 over four years for the scholarships, which will be awarded to two UCC School of Law students each academic year.
Ms Khasri and Ms McKernan were chosen as the scholarship recipients following a competitive selection process based on exam results, a personal statement, a 1,000-word essay discussing the topic "The Need for Diversifying the Legal Profession in Ireland" and an interview.
The students were officially awarded their scholarships at UCC on Friday by RDJ managing partner Richard Martin and Professor Mark Poustie, Dean of the UCC School of Law.
Mr Martin said: "I am delighted to meet this year's recipients of the RDJ Diversity Scholarship today. Aoife and Ruth are both outstanding students and I look forward to following what I have no doubt will be successful career paths for them both.
"In recent times, diversity and inclusion has quite rightly shot to the top of the workplace agenda. At RDJ we celebrate and embrace difference. However, we believe that this has to go well beyond diversity policies and aspirations. This is why we are awarding these scholarships; they are about us trying to do something meaningful to encourage more ethnic diversity in the legal profession."
He added: "These scholarships are about providing opportunity for people of ethnically diverse backgrounds as well as enriching our own workplaces. For us, this is a key part of the programme.
"It isn't just the financial support that we are giving to these students. It is also our commitment to bringing these students into RDJ to work as interns during the course of their studies so they can learn from us and also to help broaden the perspectives of our own team which comes from working closely with people from widely different backgrounds and traditions."
Professor Poustie said: "This scholarship, generously sponsored by RDJ, is clear evidence of the firm's highly commendable commitment to promote ethnic diversity in the legal profession. The different perspectives that diversity in the workplace can bring are hugely valuable.
"I am delighted that RDJ decided to work in partnership with the School of Law in promoting this transformative initiative which aligns with the School's mission of 'Shaping a Just Society'. The key benefit of this scholarship is the internship element which really opens the door to opportunity for the winners.
"The winners can serve as role models to encourage more from ethnically diverse backgrounds to enter the legal profession. It that way the profession will come to be more reflective of contemporary society. My thanks to RDJ and my congratulations to the two winners of the RDJ Diversity Scholarship this year."
Ms Khasri, who has just started year two of the BCL Law (Clinical) programme, said: "The RDJ scholarship is a significant active step taken into achieving an inclusive and diverse future within the Irish legal system.
"I am incredibly grateful to the School of Law in UCC and RDJ for offering this opportunity to positively affect both my studies and my future career. It will no doubt teach me invaluable information and open doors to countless possibilities, all the while working together towards the shared interest of a more culturally diverse legal sector - for the benefit of all that will interact with it."
Ms McKernan, a final year law student (BCL International), said: "I would like to thank both RRDJ and the UCC School of Law for giving me this amazing award.
"It is through law firms such as RDJ, who are committed to culturally diversifying the legal field and breaking barriers that prevent such measures, taking the initiative to create the Diversity Scholarship that student such as myself are given the chance to have hands-on experience of working in a well-established law firm.
"In addition to the financial aid, the internship at RDJ makes this scholarship invaluable and will bring me one step closer to having a legal career in the future."