Allen & Overy trophy awarded to Ulster University postgrad student Oisin Cleere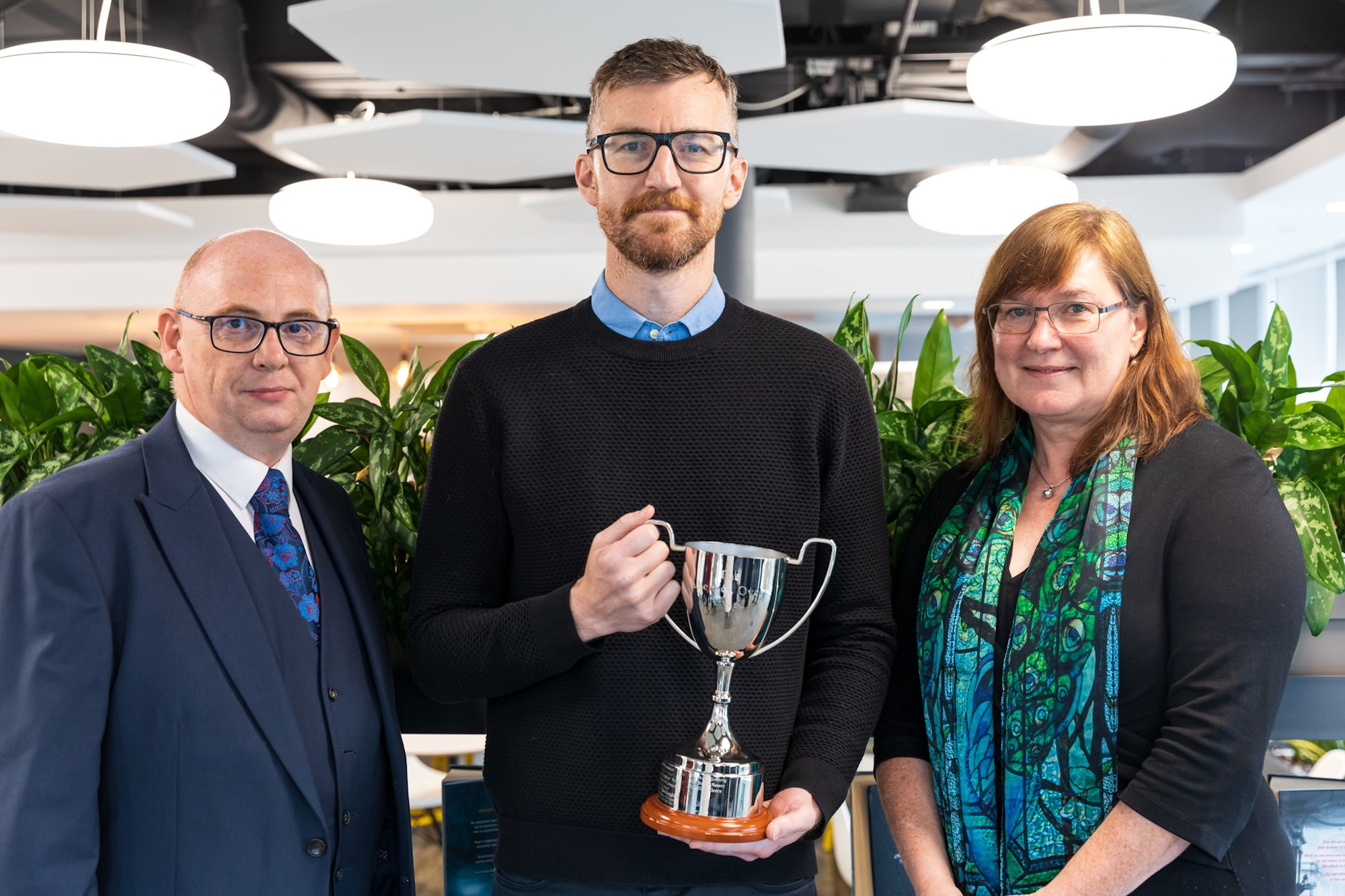 Postgraduate student Oisin Cleere has been awarded a prestigious Allen & Overy (A&O) trophy recognising excellence in the field of librarianship and information management.
Mr Cleere, a postgraduate student at Ulster University and a senior library assistant with Kildare Library Service, is the 10th recipient of the trophy since the awards commenced in 2013.
He received top marks in the library and information management postgraduate diploma, a two-year part-time programme that enhances the skills of information professionals.
This postgraduate diploma is supported by global law firm Allen & Overy, delivered by Ulster University in association with the Chartered Institute for Library and Information Professionals (CILIP) who accredit the course.
Sarah Fahy, global head of A&O Research and Library, said: "As a leading law firm, we are privileged to continue this association with Ulster University. Since 2013, we have invested in professional training in this area as we recognise the role and value that library and information managers bring to an organisation.
"Now, more than ever a flexible approach is key to attract and retain talent within the workplace and this diploma offers a strong work/ life balance for every student. Congratulations to Oisin and all this year's graduates."
The online delivery programme develops strong library, research and information skills techniques that are all designed to increase career prospects in this specialist sector.
Professor David Barr, head of the School of Education at Ulster University, said: "The postgraduate diploma in library and information management at Ulster University continues to go from strength to strength.
"It is the only course of its kind in Ireland as it offers professionally accredited study to individuals working within the library and information sector regardless of their geographic location through an innovative e-learning environment."
He added: "On behalf of the School of Education at Ulster, I would like to offer my congratulations to Oisin Cleere on winning this award in what has been a challenging year.
"We are delighted that our students benefit from this on-going partnership with Allen & Overy, both in terms of their professional development as well as the achievement of personal success that this award imbues."
Mr Cleere said: "I am thrilled to receive this award. I want to thank Allen & Overy for recognising the importance of information professionals in the modern workplace.
"It wouldn't have been possible for me to obtain this qualification without Ulster University's e-learning environment. It enabled me to continue working full-time whilst studying alongside library and information colleagues from various sectors and locations.
"Being able to share experiences and knowledge with peers and to understand and apply, in real-time, the concepts and principles of library and information management presented by the excellent tutors at Ulster University were invaluable.
"The skills and knowledge I have developed throughout the course have given me, not only the qualification, but the confidence to continue my career within the library profession."