NI: Woman succeeds in High Court challenge to definition of 'terminal illness'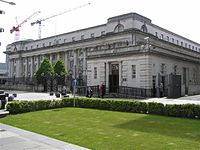 A terminally ill woman who was denied fast-track access to certain benefits has succeeded in a High Court challenge to the definition of "terminal illness" in Northern Ireland.
In a decision handed down yesterday, Mr Justice Gerry McAlinden said the requirement for terminally ill claimants to demonstrate that their death can reasonably be expected within six months is "manifestly without reasonable foundation".
Lorraine Cox, who was diagnosed with the terminal illness of motor neurone disease (MND), took forward the legal challenge with assistance from Law Centre NI and support from The PILS Project.
"It is hard to imagine a more devastating diagnosis for a single mother of three young children," Mr Justice McAlinden wrote in his judgment. "This illness is a progressive neurological condition for which there is no effective treatment or cure. "The progression of the illness is unpredictable but it would seem that 50 per cent of those individuals diagnosed with the condition die within three years of diagnosis."
He added: "I have carefully analysed all the evidence put forward by the respondents in order to evaluate their arguments in relation to justification and I can find nothing to justify or indeed explain why those individuals who have a terminal diagnosis but are not expected to die within six months and those individuals with a terminal diagnosis and who are reasonably expected to die within six months but who survive beyond that six month period are treated differently."
The judge ruled that the difference in treatment is without reasonable justification and is therefore in breach of Article 14 of the European Convention on Human Rights, in conjunction with Article 8 and Article 1 of Protocol 1.
Owen McCloskey, legal officer at Law Centre NI, said: "This is a hugely important decision that will have implications for terminally ill claimants across the UK.
"The pressure to scrap the six-month rule has been growing for a long time now, with campaigners highlighting the additional pain and stress many claimants are forced to endure because of it.
"This judgement makes clear that the current different treatment of different groups of terminally ill claimants is discriminatory and in breach of our client's human rights."