Wilson Nesbitt welcomes five newly-qualified solicitors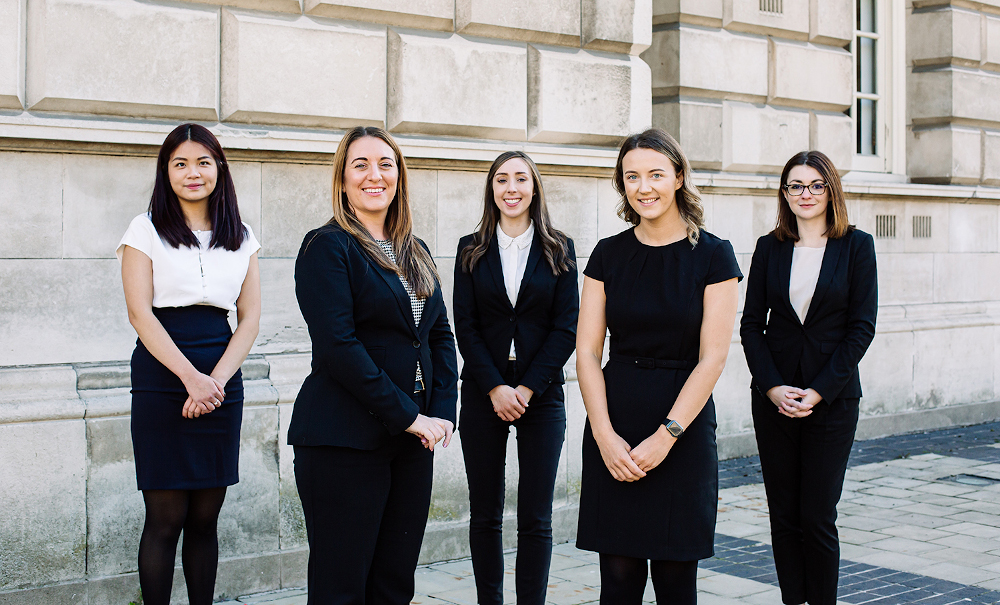 Northern Ireland firm Wilson Nesbitt has welcomed five newly-qualified solicitors across its banking and financial services, real estate and construction, and individual and family life teams.
Jessica Hickinson, Ruth Clarke, Louise Conway, Deborah Gilmour and Chi Ting Yip have joined the firm following the completion of their training contracts.
Ms Hickinson has joined the dispute resolution and recoveries team, working on behalf of large financial institutions and banks. She is experienced in dispute resolution in construction, real estate and corporate disputes. She also advises on various aspects of complex disputes on issues such as professional negligence, title rectification and mortgage enforcement.
Ms Clarke has joined the residential property team, specialising in sale and purchase transactions for private clients. She identifies and works to resolve complex title issues and provides advice to clients, mortgage lenders, and other parties involved in the transaction. She has extensive experience in dealing with a wide range of property types and locations and is a valuable resource for the other members of the residential property team.
Ms Conway advisees on family law matters including divorce, civil partnership dissolutions, cohabitee separations and children's issues. Her experience extends to financial matters including the preparation and implementation of pre and post nuptial settlements, cohabitation and separation agreements, and matters relating to children's living arrangements and financial provision.
Ms Gilmour works in the firm's lender services team, providing risk management for the residential remortgage transactions handled by paralegals. In addition, she also carries out title checks, buy to let checks, transfer of equity and co-ownership buy outs and other complex matters escalated to her by the team.
Ms Yip advises as part of the firm's residential conveyancing team and assists the Commercial Property team. She specialises in sale and purchase transactions for private clients. She interacts with mortgage lenders, financial advisors and other parties such as HMRC and Northern Ireland Co-ownership Housing Association to deal with the financial aspects of the transactions.
Managing partner Gilbert Nesbitt said: "Wilson Nesbitt is focused on developing our high quality teams through our dedicated trainee programme. We are pleased to welcome each exceptional individual to their newly qualified roles, in each of their respective teams.
"We congratulate Chi, Deborah, Louise, Jess and Ruth on their graduation and wish them every success as they continue their professional development."
Director Ian Creighton added: "We are proud of our graduates reaching this milestone, which highlights their long-term ambitions to develop and progress.
"Through investing in and supporting team development we build upon our sector scope and adaptability. This enables Wilson Nesbitt to continually deliver specialised services, technical expertise and innovative solutions to our diverse and valued client base."