Walkers appoints Thomas Leyland as dispute resolution partner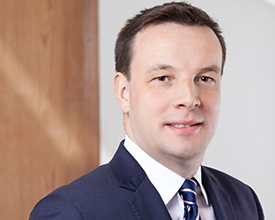 Global law firm Walkers has announced the appointment of Thomas Leyland as a partner in its insolvency and dispute resolution practice in Dublin.
Mr Leyland joins from the London office of a large global law firm where he led the financial markets and commercial disputes group. Prior to that, he trained and practised for 10 years at Freshfields in London.
He has particular expertise in advising major financial institutions on high-profile, complex, financial services disputes and will join an existing team led by Gavin Smith in order to enhance Walkers' financial services litigation offering.
Mr Smith said: "Ireland has the opportunity to become a leading centre for international dispute resolution post-Brexit. As a leading global financial services law firm, getting out in front of those opportunities is a key objective for us. We are therefore delighted to have Thomas join the insolvency and dispute resolution team here in Dublin.
"His credentials are second to none, having acted for several major financial institutions in some of the UK's most significant and high-profile financial services cases in recent years. Ensuring we have a strong litigation capability in this market is a vital part of our offering, and in particular to our global clients with an Irish presence or connection."
Mr Leyland added: "I am delighted to join Walkers' insolvency and dispute resolution practice which is particularly renowned for its contentious cross-border and multi-jurisdictional mandates. I look forward to working with Gavin Smith and this award-winning team."
Garry Ferguson, Walkers' Ireland managing partner, said: "Thomas' hire enhances Walkers' already significant insolvency and dispute resolution offering in the Irish market and reinforces what is internationally recognised as a leading insolvency and disputes practice globally.
"Thomas' financial services litigation expertise together with his strong client and market relationships in the UK, Ireland and Europe, compliments our financial services focused offering in Ireland. We welcome Thomas to the firm and very much look forward to working with him."