Walkers promotes two to partner in Ireland office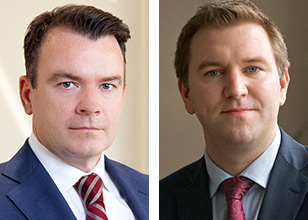 International financial services law firm Walkers has announced the appointment of two new partners in Ireland.
Damien Barnaville has been promoted to partner in the firm's asset management and investment funds group, while Shane Martin has been promoted to partner in the regulatory and risk advisory group.
Mr Barnaville has practised as a financial services lawyer in Dublin for many years and during that time has acted for a broad range of funds, fund sponsors, management companies and fund service providers.
He has a particular focus on advising in relation to the establishment, authorisation, distribution and operation of all types of Irish investment funds including UCITS and AIFs.
He also advises asset managers, depositaries and fund administrators on their day-to-day regulatory obligations in Ireland.
Mr Martin has significant experience in regulatory risk and compliance in financial services across the banking, insurance, asset management, credit union and payment services sectors.
Drawing on his experience as a regulator and industry adviser, he provides practical and informed advice on all regulatory compliance matters with particular expertise in financial crime.
The two appointments form part of a record-breaking round of 47 promotions across Walkers' offices in the Americas, Asia, the Middle East and Europe.
Ingrid Pierce, global managing partner at Walkers, said: "This is a record year for promotions across the group and it is Walkers' biggest round of senior promotions since the firm was founded in 1964.
"I am delighted to announce that we have appointed 26 new partners, 18 senior counsel and counsel and three senior corporate services professionals.
"These senior promotions together with our wider promotions across Walkers, reflect the strength of our offering, the diversity of our business and our commitment to nurturing and growing a strong talent pipeline for the future."