US: Minneapolis moves to 'dismantle' city police department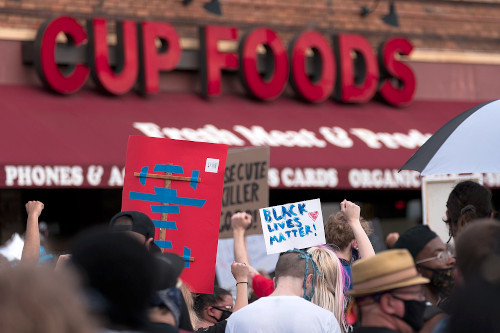 The US city of Minneapolis is moving towards the abolition of its police department following weeks of protest sparked by the killing of George Floyd by one of its officers.
Nine members of Minneapolis City Council have pledged to dismantle Minneapolis Police Department and introduce a new community-based alternative, the local Star Tribune reports.
The nine members have a large enough majority on the 13-member council to overcome the veto power held by Mayor Jacob Frey, who was booed by protesters on Saturday after telling a rally that he did not support the full abolition of the city's police department, formed in 1867.
Council president Lisa Bender said on Friday that she supported proposals to replace the police department "with a transformative new model of public safety", but the exact form of that new model remains unknown.
In a joint statement read to a rally on Sunday, the nine council members said: "We recognise that we don't have all the answers about what a police-free future looks like, but our community does. We're committed to engaging with every willing community member in the city of Minneapolis over the next year to identify what safety looks like for you."
Protests against racism and police violence are continuing to take place in Minneapolis and over 600 US cities and towns across all 50 states. Many protesters have called for the defunding or abolition of their local police departments.