UCC congratulates 80-year-old Tom Walsh on completing his PhD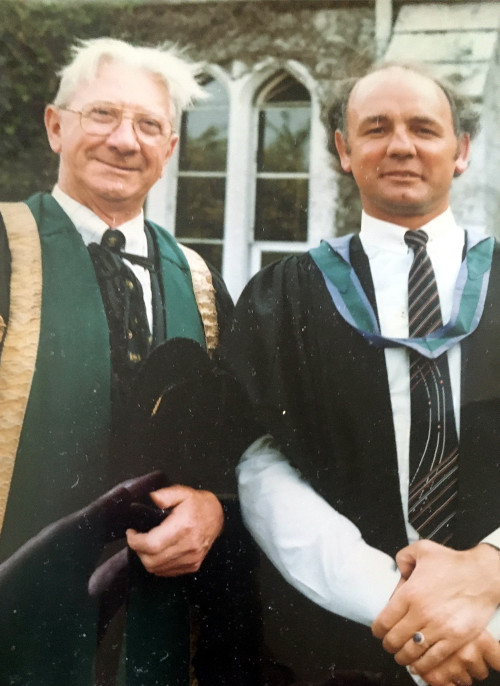 University College Cork School of Law has congratulated an 80-year-old legal academic on the completion of his PhD three-and-a-half decades after completing his LLM.
Soon-to-be Dr Tom Walsh has successfully defended his thesis, The Identification, Elaboration and Legislative Implementation of the Principles of Customs Law: National, Regional and Global Experience.
His latest achievement deepens his long-standing relationship with the university. After graduating with a BCL in 1984, he became the first person ever to start an LLM with UCC. As the university had no LLM programme, he began his postgraduate studies by thesis only.
Later becoming an international expert on customs law and practice, he returned to Cork in order to complete his PhD at his original alma mater.
Professor Owen McIntyre, his PhD supervisor, said: "Tom's immense life-long contribution to the field of customs law, and his continuing commitment to advancing and improving this specialist area of legal practice, should be an inspiration to legal scholars and practitioners everywhere.
"I am delighted to have had the privilege to work with Tom, from whom I have learned a great deal, on this ground-breaking doctoral research project. It is fitting that UCC School of Law should have this opportunity to acknowledge and honour Tom's outstanding role in the evolution of customs law globally."
Professor Mark Poustie, Dean of School of Law, added: "Many congratulations on behalf of the School of Law to Tom Walsh on securing his PhD, an achievement which crowns his distinguished career as an expert in customs law and practice. The School is committed to lifelong learning and Tom's fantastic achievement really demonstrates that lifelong learning never stops."
Mr Walsh said: "The great thing about a UCC degree is that it allows you to hold your own anywhere throughout the world. Having worked with 40 odd countries, I found that it was an added bonus to be Irish in every sense of the word! As to the future, I would like UCC to be the first Irish university to provide for the study of customs law and practice."