The law must serve rich and poor alike, says Mr Justice John MacMenamin upon retirement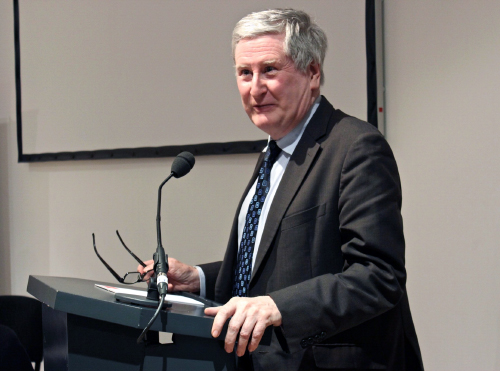 The law is as much for the poor as it is for the rich, Mr Justice John MacMenamin said upon his retirement last week.
The Supreme Court judge also said that without access to justice there is no democracy, The Irish Times reports.
"There cannot be one law for rich people and one law for others," he remarked on Friday, his 70th birthday.
"Access to justice is fundamental because without access to justice there is no democracy," following a legal career of 47 years.
"The law cannot become something selected or fragmented, there cannot be one law for rich people and one law for other people. Law depends on legitimacy and legitimacy depends on the acceptance of everyone in society. The law must be there for the disabled, for prisoners, just as it is for other people."
His comments followed a tribute paid to him by the Chief Justice, Donal O'Donnell, as well as Attorney General Paul Gallagher in a Supreme Court that was full for the occasion. In attendance were Mr Justice MacMenamin's wife Lia and many serving and former judges.
Sara Phelan SC, chair of the Bar Council; Maura Derivan, president of the Law Society; Angela Denning, chief executive of the Courts Service, and John Mahon, registrar of the Supreme Court also paid tribute to the judge.
His landmark cases at the court included the Simpson case, which saw damages awarded to a prisoner over 'slopping out' in addition to Daly v Nano Nagle, a case about the rights of disabled people to reasonable workplace accommodation.
For Mr Justice MacMenamin, the law "has always been about the woman on the bus and we have all been the better for that", the Chief Justice said.
The Attorney General said Mr Justice MacMenamin has always had very high standards, "not just for the judiciary, but for all of us as lawyers and human beings".
Sitting as a judge had, he said, been a privilege but that in retiring he was gaining a status, that of returning to being one of the "sovereign people".
Educated at Terenure College, UCD and the King's Inns, Mr Justice MacMenamin was called to the Bar in 1975, became a senior counsel in 1991 and was appointed to the bench in 2004 as a judge of the High Court and thereafter of the Supreme Court in 2012.