Staggering €300,000 raised at Calcutta Run presented to homelessness charities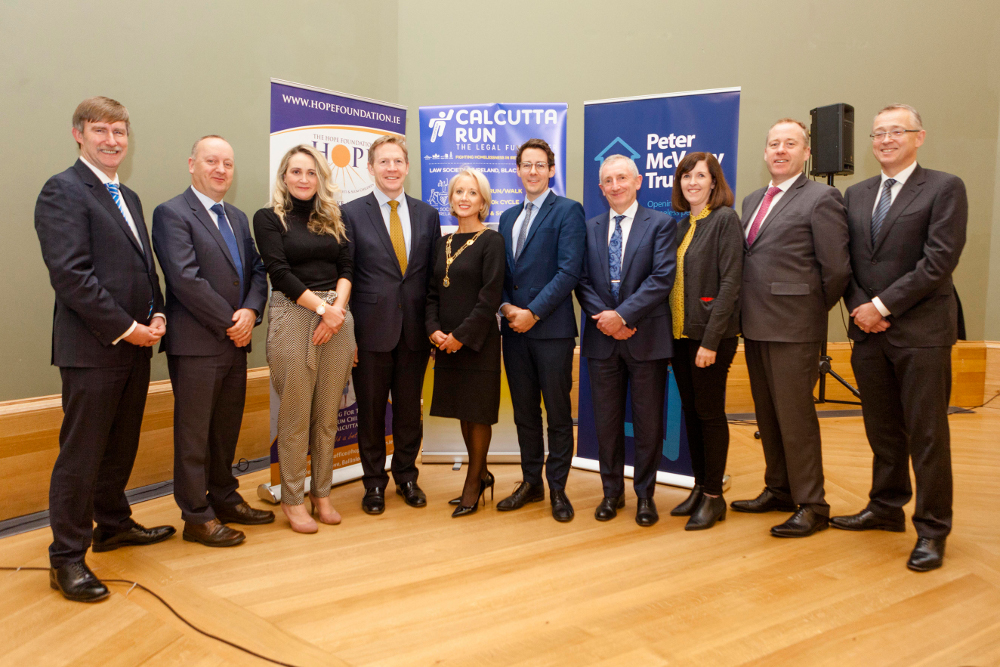 A staggering €300,000 raised by the legal profession at this year's Calcutta Run has been presented to the Peter McVerry Trust and The Hope Foundation.
The legal fundraiser, organised by the Law Society of Ireland, met its 2019 fundraising target, contributing to a total of €4.3 million raised to date.
The two charities received cheques for €150,000 each at an event hosted by law firm Gartlan Furey at its Dublin headquarters on Wednesday.
Attending the first official event since her appointment, Law Society president Michele O'Boyle said: "The Law Society and the solicitors' profession are proud to support the Calcutta Run, which is now in its 21st year.
"When the Calcutta Run fundraiser started in 1999, I don't think anyone could predict that Ireland's homeless figures would rise to over 10,000 in 2019. Homelessness is affecting more and more people each day, including many families and children.
"It gets more difficult every year to reach our ambitious target. Last year the Calcutta Run set a fundraising target of €300,000 to celebrate its 20th year and in its 21st year, we are proud to have reached that target again."
The Calcutta Run directly supports a number of projects in Dublin and Kolkata, including residential community detox programmes and home refurbishments in aid of the Peter McVerry Trust, and 24-hour emergency response units and support for dozens of HIV/AIDs infected children in Kolkata through the Hope Foundation.
Pat Doyle, CEO of the Peter McVerry Trust, said: "The Calcutta Run is now our longest-running external partnership and we are delighted to continue our work with them. The Calcutta Run has made a huge contribution to the work of the Peter McVerry Trust over the years. With their support, we are able to furnish numerous long term family housing units giving people and families a key to their own door.
"We would like to offer a huge thank you to everyone who has supported and taken part in the Calcutta Run this year and over the years."
Maureen Forrest, founder and director of The Hope Foundation, said: "We are delighted to continue our partnership with the Calcutta Run. Twenty years ago we made a promise to care for the children in Kolkata and with the Calcutta Run's support we can continue to keep that promise.
"Last year and with the Calcutta Run's support, our Hive Emergency Response Unit was able to rescue 341 children from crisis situations on the street of Kolkata and housed 36 girls in our Bhorukha Snehneer Home, and 52 girls in Kasba girls home. We were also in a position to contribute to a new wing in our Hope hospital. The Calcutta Run is a testament to the solicitors' profession and we thank you for your support."
Ms O'Boyle added: "I think the generosity and energy put into the event is testament to the profession but also a reflection and acknowledgement of the challenging times we are in."