Síofra O'Leary appointed section president of European human rights court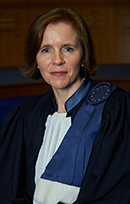 Ireland's judge at the European Court of Human Rights has been elected as one of five section presidents.
Síofra O'Leary began her two-year term as head of the court's fifth section at the start of the year.
The Dublin-born judge was appointed to the human rights court's bench in 2015, having previously held various positions at the Court of Justice of the European Union (CJEU).
Aoife Nolan, professor of international human rights law at the University of Nottingham, said on Twitter that Ireland "should be rightly proud" of her appointment as "important recognition of the leadership role she has played on the court".