Sinn Féin now accepts non-jury trials in 'exceptional circumstances'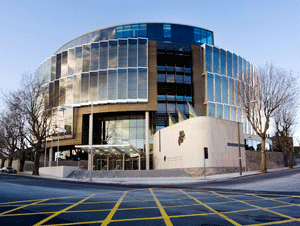 Sinn Féin has softened its historic position of opposition to the Special Criminal Court, with members agreeing a new position that non-jury trials should only take place in "exceptional circumstances".
The party has traditionally called for the non-jury court, established in the late 1930s to prosecute suspected IRA members, to be dismantled on the basis that it does not meet international human rights standards.
The Irish Council for Civil Liberties (ICCL) maintains that the Special Criminal Court, now more strongly associated with the fight against organised crime, "has no place in a democracy".
A motion approved by Sinn Féin members at the party's ard fheis on Saturday says the court "as currently constituted has no place in a modern criminal justice system" and describes its founding legislation as "an archaic and outdated legal framework that is incapable of tackling 21st century serious organised crime".
It goes on to say that "all courts should be integrated into a single reformed criminal justice system and the court system should include provision for jury trials, anonymising jury trials, the use of video link for juries or granting special protection or juries where these are demonstrated to be necessary".
However, in a significant change of policy, the motion goes on to open the door for non-jury trials provided that these are "compliant with international human rights standards", that there is a "high bar on the exceptional circumstances to be met", that they are "subject to judicial oversight" and should "involve independent human rights oversight".
Retired judge Mr Justice Michael Peart was appointed in February to chair a six-person group reviewing the Offences Against the State Acts in light of criticism on human rights grounds.