Mr Justice Peart to lead review of Special Criminal Court laws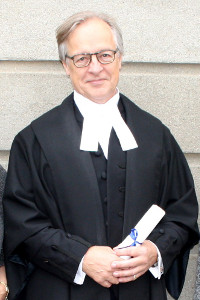 Mr Justice Michael Peart has been appointed to chair a six-person group reviewing the legislation underpinning the prosecution of terrorism and organised crime offences in the non-jury Special Criminal Court.
The former judge, who served on the Court of Appeal from 2014 to 2019 and the High Court from 2002 to 2014, will be joined on the review group by Dr Alan Greene, Anne-Marie Lawlor SC, Caitlín Ní Fhlaitheartaigh, Professor Donncha O'Connell and Ken O'Leary.
The group will examine all aspects of the legislation, taking into account the current threat posed by domestic and international terrorism and organised crime, and will be asked to produce an interim report within three months.
Justice Minister Helen McEntee said: "The Offences Against the State Acts have been a vital component in our response to the anti-democratic and criminal forces that have sought to undermine the integrity of our State through violence and intimidation.
"I am firmly of the view that the Offences Against the State Acts and Special Criminal Court have served the State well in tackling subversives and organised crime gangs and have long been a necessary part of the State's arsenal in this regard. However, it is important to occasionally review the operation of our important legislation.
"A comprehensive and independent review was previously published in August 2002 by a committee under the chairmanship of former Supreme Court Judge, the late Mr Justice Anthony Hederman.
"This current review is timely and will complement the advanced work in my Department to deliver on the Programme for Government commitments regarding the recommendations of the Commission on the Future of Policing in Ireland."
She added: "The Review Group will engage with relevant stakeholders in line with current public health guidelines, and I will be requesting an interim report within three months with an indication of the timescale required to complete its work.
"I would like to thank Mr Justice Michael Peart and the members of the review committee for undertaking this important task and I look forward to their report."