RDJ partner Brendan O'Connell scoops FAI award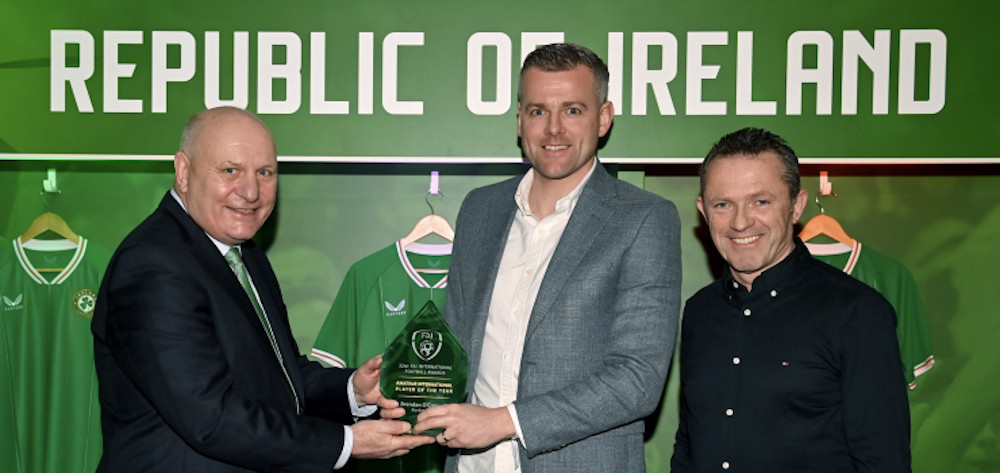 RDJ LLP partner and Ireland and Rockmount goalkeeper Brendan O'Connell has been awarded the 32nd FAI Amateur International Player of the Year award for his outstanding performances for club and country.
Mr O'Connell is the head of RDJ's general liability insurance defence team in addition to his soccer career as one of Ireland's top amateur players.
Capped 70 times by his country, Mr O'Connell is currently preparing with the Irish squad for the upcoming UEFA Regions Cup finals in Spain from 9–18 June 2023.
A star of the Rockmount team that won the FAI Intermediate Cup in 2022, he played a key role in the recent semi-final win away to Lucan United as the Cork side look to retain their title.
The captain of the Ireland Amateur International side, Mr O'Connell was presented with his award by FAI president Gerry McAnaney and Amateur International team manager Gerry Davis at the Aviva Stadium.
Mr O'Connell said: "This is a tremendous honour, not just for me but for my family who have supported me throughout my career and for everyone at my club Rockmount.
"It has been a pleasure to play for one of the most famous club teams in the country and to captain Ireland as well as we look forward to the UEFA Regions Cup this summer is also such an honour. We won the tournament in Tallaght back in 2015 and we will be doing our best to repeat that in Spain come June."
Mr Davis added: "Brendan is such an example to every amateur player in the country. He combines a very busy working life with an outstanding career as one of our top amateur players and he is a pleasure to work with.
"This award is most deserved and I look forward to working with Brendan and the rest of the our squad now as we prepare for the UEFA Regions Cup finals."