NI: Proposals to stop domestic abusers cross-examining their victims put out to consultation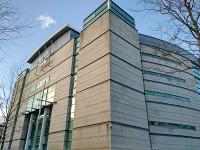 Proposals to prevent domestic abusers from cross-examining their victims in the family courts have been put out to consultation by the Department of Justice.
The consultation paper, published yesterday, sets out options for legislation including applying a statutory prohibition on cross-examination in person in certain circumstances and giving the court a discretionary power to prevent such cross-examination.
The final report of the Gillen Review of Family Justice, published over two years ago, recommended the introduction of specific legislative provision to protect victims from being cross-examined in person by personal litigants in family courts, similar to the legislative provision which protects victims of sexual offences giving evidence in criminal courts from being cross-examined in person by the defendant.
Following the outcome of the consultation, the Department will consider, together with the UK Government, whether any provision to protect victims of domestic abuse from cross-examination should be included in the Domestic Abuse Bill 2019, which is working its way through Westminster and includes some measures for Northern Ireland, in particular a new domestic abuse offence.
However, the Department warned that it may not be possible to proceed to legislate until the Northern Ireland Executive is restored.
Permanent secretary Peter May said: "The Department is committed to protecting victims of domestic abuse right across the justice system and, for this reason we want to consider potential legislative measures to protect victims from being cross-examined by the perpetrator in family courts.
"As well as the views of victims, we would also like to hear from all court users, people working within the family justice system, community and voluntary sector organisations and anyone else with an interest in the family justice system."
The consultation will run for eight weeks from 31 July 2019 to 24 September 2019.