NI: Prison service to review prisoners' access to books after 'book ban' controversy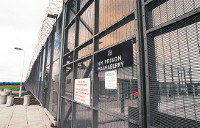 The Northern Ireland Prison Service (NIPS) has announced a review of access to books within Northern Ireland prisons following a public controversy.
Dr Marisa McGlinchey criticised the service after it emerged that prisoners were not allowed copies of her recently-published book, Unfinished Business: The Politics Of "Dissident" Irish Republicanism.
Ronnie Armour, director general of the NI Prison Service, told BBC News: "The Northern Ireland Prison Service has a duty to maintain a neutral environment for prisoners, visitors and staff. This can be particularly challenging and will mean some items may not be permitted into our prisons.
"There is no list of books not permitted, and decisions are taken on a case by case basis. These decisions can be difficult and are often finely balanced. Therefore I have commissioned a review into our current practices."
Mr Armour has also contacted Dr McGlinchey to discuss the situation with her book.
Belfast solicitor Darragh Mackin of Phoenix Law, acting for Dr McGlinchey, welcomed news of the review.
He said it was "a dangerous precedent to adopt a policy which meant that certain books could be banned from Maghaberry Prison without any justifiable reason".