NI: Preliminary hearings into legacy cases to take place in September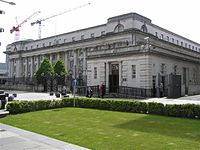 Preliminary hearings into legacy cases will take place this September to establish their readiness for full inquest proceedings, the presiding coroner has announced.
Mrs Justice Siobhan Keegan today held a listing of all the outstanding legacy inquests to provide an update on the work that is being taken forward by the Legacy Inquest Unit to progress the legacy inquests.
Her review follows up on the work undertaken by Lord Justice Weir when he carried out a comprehensive review of the legacy cases in February 2016.
Mrs Justice Keegan announced that she intends to carry out preliminary hearings in each case in September 2019 to establish the state of readiness and to consider the approach that may be taken in relation to the sequencing of inquest hearings.
The legal representatives for the families and the relevant agencies have been asked to provide an update on each case to the presiding coroner in advance of these hearings.
The presiding coroner added that she is keen to ensure that legacy inquest cases are prepared for hearing expeditiously and that disclosure issues are identified early and, through collaboration and dialogue, that reasonable and proportionate solutions are found.