Police Ombudsman identifies 'collusive behaviours' in RUC handling of UDA/UFF attacks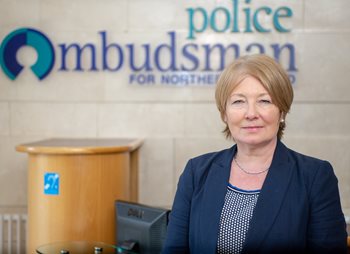 The Police Ombudsman for Northern Ireland has identified "collusive behaviours" in the RUC's handling of a number of paramilitary attacks by the UDA/UFF between 1989 and 1993.
The attacks included 19 murders and multiple attempted murders, including the murder of Sinn Féin councillor Eddie Fullerton in Co Donegal in May 1991.
Marie Anderson, the police ombudsman, said her investigation found no evidence that the RUC had any prior knowledge of the attacks.
She stated that an initial failure by the RUC to ensure that it had adequate intelligence about the activities of the North West UDA/UFF led to an inability "to effectively counteract the threat posed by them which began to emerge in 1989".
After investigating police actions in relation to these attacks, Mrs Anderson said her enquiries had identified a number of significant concerns and said she was of the view that the families concerns about collusive behaviours were legitimate and justified.
Intelligence and surveillance failings led to the arming of the North West UDA/UFF with military assault rifles, she said, and records relating to RUC informants who were suspected of having been involved in serious criminality including murder were deliberately destroyed.
The RUC also failed to warn a number of individuals of threats to their lives; failed to adequately address UDR officers passing information to loyalist paramilitaries; failed to disseminate all relevant intelligence to police officers investigating a number of attacks; and failed in the use and handling of informants suspected of being involved in serious criminality including murder.
However, Mrs Anderson also said that, generally, police investigations into the attacks were "prompt and thorough" resulting in a number of convictions of those responsible for the attacks.
Belfast-based KRW LAW LLP said the families it repesents "consider that this report provides yet more irrefutable evidence of the State's overarching policy of collusion, to murder its own citizens".
Partner Niall Murphy said: "This report proves that collusion was not a case of a few bad apples, confined to a geographic area. We now know from this and other reports, that collusion was systemic, in south Down, south Belfast, south and north Derry and mid Ulster. Different police districts at different times with different informers and killers. However, the blueprint remained the same, a blueprint now crystallised and evidenced in this report."