Nothern Ireland judge rebukes 'time-wasting' personal litigant over failed appeal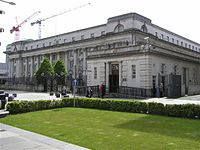 A judge has issued a stern warning about the "real and growing risk of expensive, time-wasting and wholly unmeritorious cases" coming before Northern Ireland's Court of Appeal as he dismissed a "hopeless and utterly groundless appeal" brought by a personal litigant.
Lord Justice Treacy said it was "both regrettable and wrong in principle" that someone without legal representation or legal aid "should nonetheless access this court by the simple mechanism of presenting arguments of their own and presenting them in the capacity of a 'personal litigant'."
He made the remarks earlier this month as he handed down judgment in Department of Finance, Land and Property Services v Foster [2022] NICA 19, a case concerning unpaid rate bills.
The appellant in the case was wrongly told by a judge that he did not require leave of the High Court in order to pursue an appeal.
"It is indeed unfortunate in view of our previous observations that the experienced lawyers for the respondent did not intervene to point out that leave was required and argue, as they did before us, that leave should be refused," Lord Justice Treacy said.
He described the requirement to obtain leave from the High Court as a "filter mechanism" which should have been applied in this case.
The judge said: "Failure to apply that filter mechanism can, as in this case, result in tying up the time of the Court of Appeal in hearing, yet again, entirely unmeritorious arguments some of which the judge had rather generously characterised as 'legal nonsense' when, in truth, they were just plain nonsense."