NI: Northern Ireland justice system 'struggling' to deliver for victims of sexual violence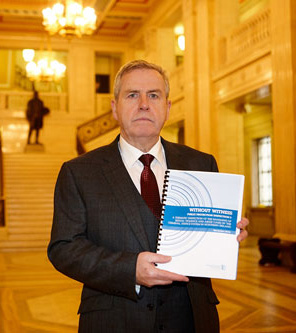 Northern Ireland's criminal justice watchdog has warned that the justice system is "struggling" to deliver acceptable outcomes for victims of sexual violence and abuse in spite of over a decade of warnings.
Brendan McGuigan, the Chief Inspector of Criminal Justice in Northern Ireland, said the police, prosecutors and courts were letting down victims of sexual violence by taking too long to handle complaints.
In some cases, the Public Prosecution Service (PPS) took over a year to make a decision, which he said was "simply unacceptable".
Mr McGuigan said he hoped his new report, along with the work being conducted by Sir John Gillen, would open a "wider public debate on this issue".
In 2016/17, over 3,150 sexual violence and abuse offences - such as rape, sexual assault and child abuse - were recorded by the police. Less than two per cent of recorded rapes and less than 10 per cent of other recorded sexual offences eventually resulted in conviction.
The Criminal Justice Inspection Northern Ireland (CJINI) report highlighted a high number of cases where the complainant eventually withdrew their support for prosecution.
Mr McGuigan said: "Over the last 12 years CJI has published two reports on sexual violence, one on file quality and disclosure and three on avoidable delay.
"Through these various reports we have previously recommended that police officers and prosecutors should work more closely together and develop a 'prosecution team' approach. We have also urged the criminal justice system and the organisations themselves to take action to address delay and improve the timeliness of case file progression.
"But yet despite accepting our previous recommendations, impetus has been lost and the work required to bring about real change remains unfinished."