Northern Ireland judicial pay frozen during pandemic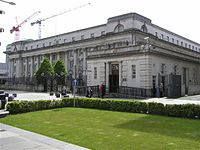 Judicial salaries in Northern Ireland and across the UK have been frozen for a year, new figures from the Ministry of Justice show.
The Lord Chief Justice of Northern Ireland, Sir Declan Morgan, received a salary of £234,184 in 2019. This rose to £238,868 last year but has remained the same this year, including for his successor, Dame Siobhan Keegan.
The same holds true for the president of the Supreme Court, Lord Reed, and the Lord President in Scotland.
The salaries of Lords and Lady Justices of Appeal in Northern Ireland rose from £215,094 to £219,396 last year and have not risen further.
Likewise, High Court judges in Northern Ireland saw their pay increase from £188,901 in 2019 to £192,679 in 2020, and they have remained at that level.
The Recorder of Belfast was paid £151,497 in 2019 and £154,527 in 2020, and the same for 2021. County Court judges and tribunal presidents received roughly the same – £151,498 in 2019 and £154,527 in 2020 and 2021.
The presiding district judge of the magistrates' courts was paid £132,075 in 2019, rising to £134,717 for 2020 and 2021. The presiding coroner and ordinary district judges received £112,542 in 2019 and £114,793 in 2020 and 2021.
Northern Ireland's Department of Justice has operational control of the courts in Northern Ireland, but the UK's Ministry of Justice continues to have responsibility for judicial pay and pensions.
The Lord Chief Justice of England and Wales, Lord Burnett of Maldon, receives the highest salary of any member of the British judiciary. It has remained at £267,509.
Dr Brian Barry, lecturer in law at Technological University Dublin and author of How Judges Judge: Empirical Insights into Judicial Decision-Making, told our sister publication Scottish Legal News that the freeze "may partly be in recognition of the economic hardship that many workers experienced this past year".
He added: "As ever with judges' remuneration, a delicate balance must be struck to ensure salary levels remain high enough to attract legal talent of sufficient calibre to the bench while not appearing to be too high in the eyes of the public.
"The reality is, of course, that the salaries of even the highest-level judges pale in comparison to those enjoyed by some of the lawyers appearing before them."
Professor Cheryl Thomas' Judicial Attitudes Survey, published earlier this year, asked respondent judges about their pre-appointment earnings.
Fifty-one per cent were earning more before joining the judiciary while the "single largest proportion of judges (27 per cent) were earning substantially more than their judicial salary at the time of their appointment to the salaried judiciary".
Only 42 per cent of judges said they were paid a reasonable salary for the work they do. Fifty-one per cent said their salary affected their own morale while 72 per cent said it affected the morale of their fellow judges.