NI: Nine commissioners and deputy chief commissioner appointed to Equality Commission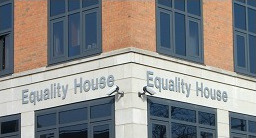 Nine commissioners, including a new deputy chief commissioner, have been appointed to the Equality Commission for Northern Ireland.
Geraldine McGahey, already an equality commissioner as well as a parades commissioner, former chief executive of Larne Borough Council and SOLACE gender champion, will take up the role of deputy chief commissioner.
Meanwhile, Neil Anderson, June Best, Theresa Donaldson, Hazel Francey, Stephen Mathews, Joe McVey, Dawn Purvis and Katy Radford have been appointed as commissioners.
The appointees replace outgoing deputy chief commissioner Lesley Carroll and commissioners William Gamble, Judith Gillespie, Tom Hartley and David Rose, who have completed their terms of office, as well as commissioner William McKee, who passed away last December.
The appointments, announced by Northern Ireland Secretary Karen Bradley today, are for a three-year period ending 31 May 2022.
Chief commissioner Dr Michael Wardlow said: "It's a great pleasure to welcome new commissioners to work with us on the important task of promoting equality and challenging discrimination. I welcome the diversity of backgrounds, experiences and expertise that the new commissioners bring and look forward to working with them over the next three years.
"I'd also like to thank our outgoing commissioners, each of whom has been generous in sharing their knowledge and experience and shown real commitment to our work to address inequalities and champion equality during their time as commissioners.
"I am confident that both the new and continuing members of the commission will maintain the commitment and enthusiasm of the outgoing members in working to advance a more equal and shared society in Northern Ireland."