NIHRC annual lecture hears call for enhanced refugee protection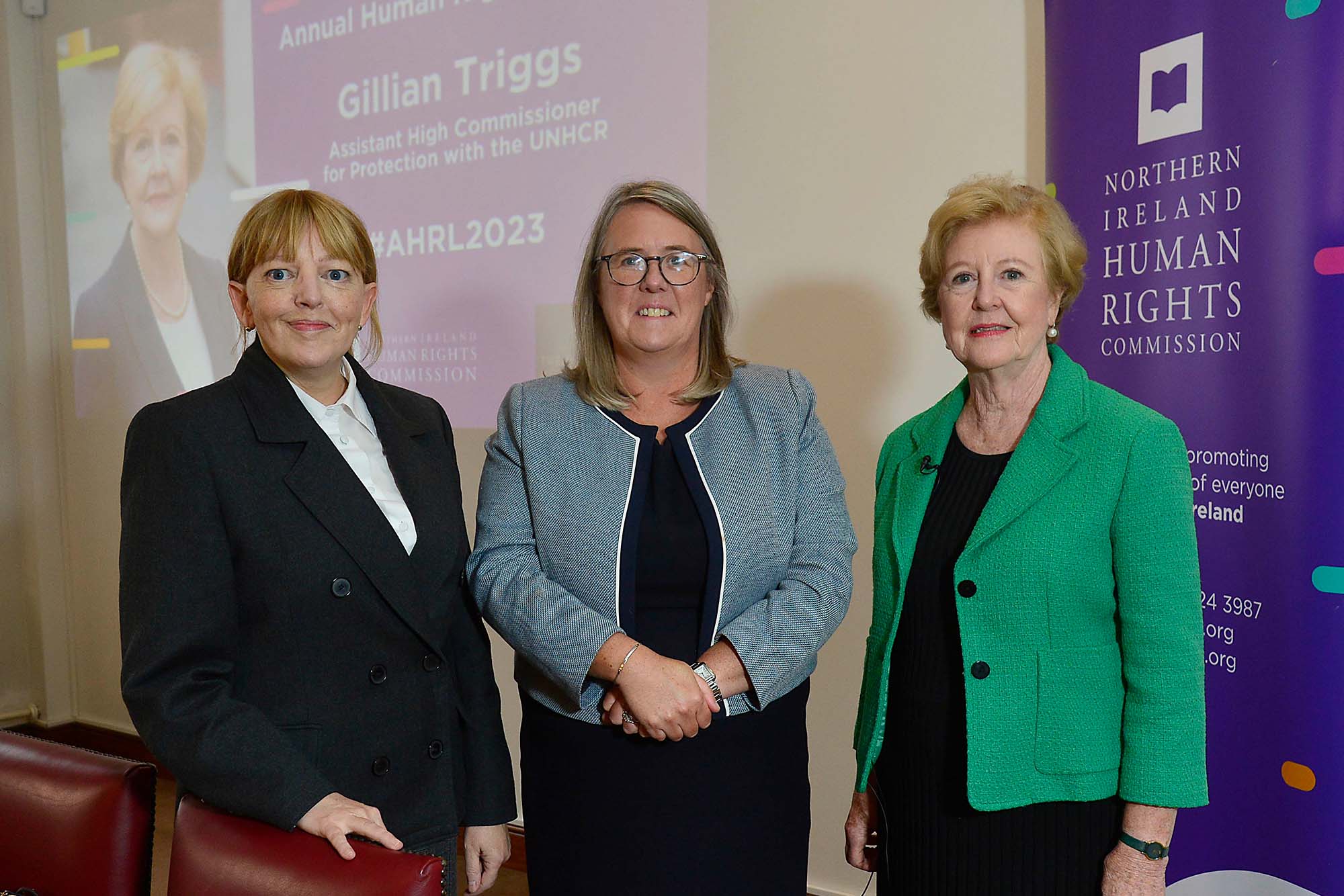 The UN Refugee Agency's Assistant High Commissioner for Protection, Gillian Triggs, has called for bold steps to protect those forced to flee their homes while speaking at the Northern Ireland Human Rights Commission's annual human rights lecture.
The event, in partnership with the Bar of Northern Ireland, took place yesterday in the Royal Courts of Justice and was opened by Lady Chief Justice of Northern Ireland, Dame Siobhan Keegan.
In her keynote address, Ms Triggs said: "There are now more than 110 million people forcibly displaced throughout the world due to conflict, persecution, discrimination and violence, a figure that has doubled in the past decade.
"The scale and complexity of global displacement today requires refreshed and creative thinking to address root causes while also ensuring immediate and urgent protection."
She continued: "Refugees fleeing conflict often find themselves lacking access to basic services, protection and solutions throughout their journey. A holistic, 'whole-of-journey' approach can provide this protection so long as it doesn't compromise the fundamental right to access territory to claim asylum.
"This approach can help find solutions for refugees, including through safe pathways such as resettlement, family reunion, labour mobility, education and community sponsorship. It can also encourage development banks and the private sector to support governments and local authorities, host communities and people on the move."
Alyson Kilpatrick, chief commissioner of the Northern Ireland Human Rights Commission, said: "We are delighted to have Gillian Triggs deliver the keynote address at this year's annual lecture on this important topic.
"The number of people forcibly displaced from their homes as a result of persecution, conflict, violence, and human rights violations is rising. They often face perilous journeys and are denied access to fundamental rights in trying to find safe pathways to protection.
"We are grateful to Ms Triggs for joining us and sharing her insight on how to address challenges to protecting refugees and ensuring no one is left behind."
Moira Smyth KC, chair of the Bar Council of Northern Ireland, added: "The Bar of NI is proud to continue our support for the Northern Ireland Human Rights Commission annual lecture. Respect for the rule of law and human rights are central to the protection of refugees and displaced persons.
"I am grateful to Ms Gillian Triggs for sharing her expertise and knowledge of global refugee protection, as a defining legal issue of our time."