NI High Court rules DUP ministers acting unlawfully by boycotting north-south meetings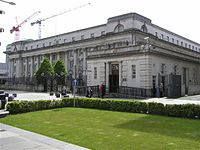 Northern Ireland's High Court has ruled that Democratic Unionist Party (DUP) ministers have acted unlawfully by boycotting meetings of the North-South Ministerial Council (NSMC).
Mr Justice David Scoffield said the boycott, launched by the DUP last month in protest of the Northern Ireland Protocol, "frustrates, is contrary to and is in breach of legal duties contained in the Northern Ireland Act".
The pledge of office which ministers are required to affirm under the ministerial code and the Northern Ireland Act 1998 includes a commitment "to participate fully in the Executive Committee, the North-South Ministerial Council and the British-Irish Council", he noted.
The ruling follows judicial review proceedings brought by Belfast businessman Sean Napier against DUP ministers Paul Givan, Gary Middleton, Michelle McIlveen, Edwin Poots and Gordon Lyons.
Solicitor Paul Farrell of McIvor Farrell Solicitors, who represented Mr Napier, told Irish Legal News: "This is a very significant declaration from the court which underscores the rule of law and good governance in Northern Ireland.
"Our client is very happy with the court's declaration and awaits confirmation from the DUP ministers that they will act lawfully in accordance with their duties moving forward."